The Nutrient-Dense Kitchen, a Belated Book Review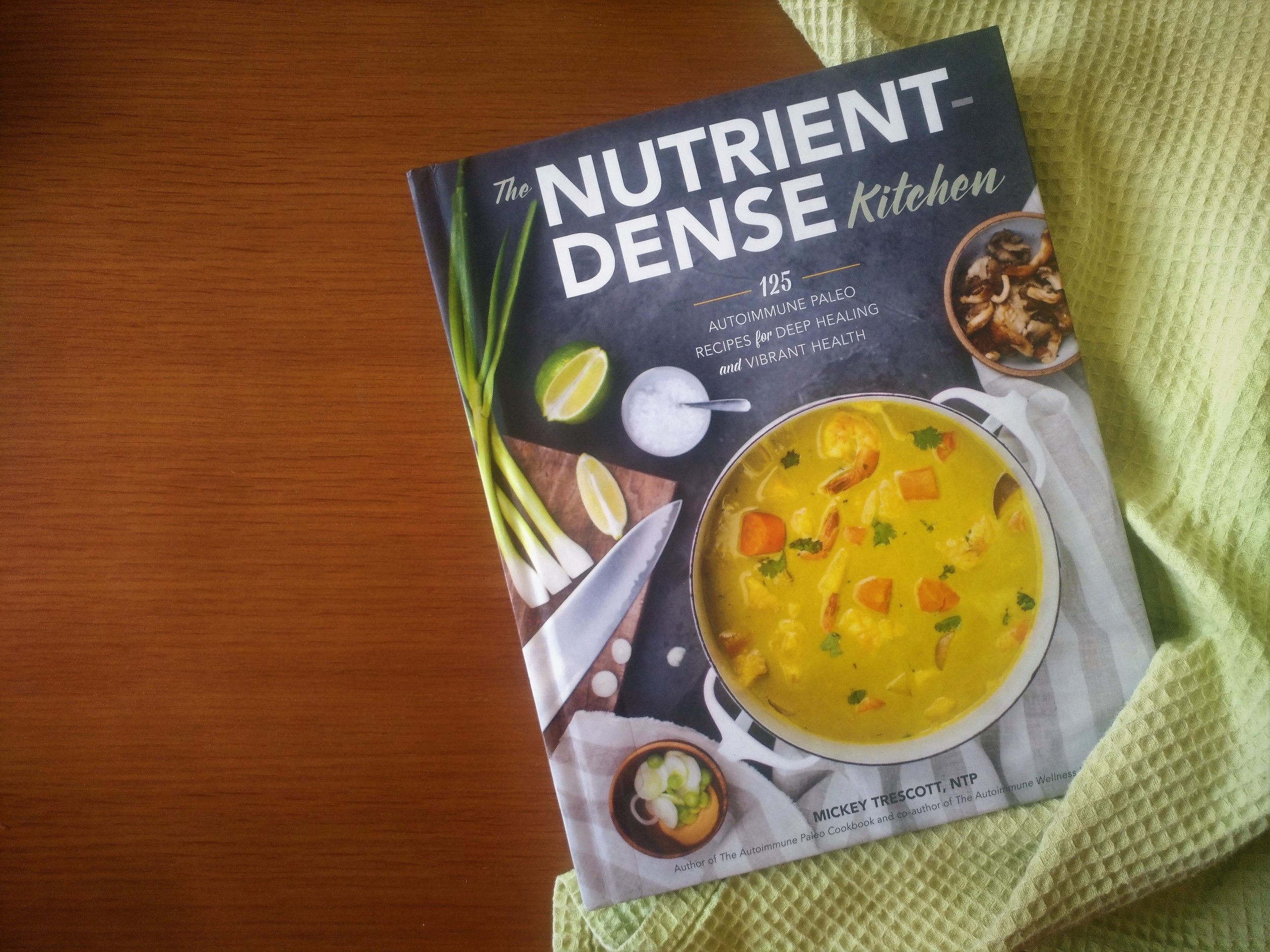 The Nutrient-Dense Kitchen cookbook will give you a new perspective on food and wellness. The detailed techniques, creative ingredients and the nutrition knowledge shared in the Nutrient-Dense Kitchen will set you up for a nourished body and mind. To be honest, it revolutionizes my grocery shopping!
[Disclaimer: This article by no means provide any medical advice, diagnosis or treatment prescription. The content of this article is for personal sharing and informational purpose only. Please consult your medical provider for any questions you may have.]
Content of the Nutrient-Dense Kitchen
Written by Mickey Trescott, NTP, the Nutrient-Dense Kitchen is a comprehensive introduction to the autoimmune paleo diet. The author begin the book with her personal healing story. Then the author detailed important vitamin and minerals, what they do in our bodies and which foods are best sources of them.
Chapter 2 focuses on the implementation of autoimmune paleo diet. The author illustrated foods to avoid, foods to re-introduce. Chapter 3 gives readers tips for sourcing nutrient-dense diet-compliant foods affordably.
Chapter 4 makes up the bulk of the book. It includes 125 recipes ranging from appetizers, drinks, dressings, to vegetables, meat, seafood and desserts. All recipes come with detailed descriptions on steps to prepare, colored image of food as well as a short tidbit of nutritional knowledge of specific ingredients involved.
Chapter 5 provide practical meal plans that organizes recipes included in the previous chapter. Reader will find meal plans and corresponding shopping lists built by season, budget, optimal nutrient density as well as for two-person household.
To close off, the author included an extensive appendix section with recipe index, conversion charts and direction to resources. (Affiliate link below)
Reflection on Nutrient-Dense Food Sourcing
This book not only focuses on simple do and don't in a diet, but also an intentional sourcing of ingredients. For vegetables, consider local, organic and frozen. While for meat and poultry, consider grass-fed and pasture-raised. For seafood, wild-caught would be the best bet.
I have always been embracing organic vegetables and antibiotic-free meats in my grocery shopping. Our family has been a fan of CSA farmshare boxes from Zephyr Organics! However, this book has really changed my mind in my beef sourcing!
Earlier this year (2022), hubby heard about the BEEF-ONLY lions' diet from a Youtube video by Mikhaila Peterson. He raved about the healing properties of it and hoped it will make him feel better in skin, mind and gut. Sure enough he jumped into the diet the day of, removing all other foods cold turkey.
For me, my greatest concerns for him to be on this diet are nutrient density/ diversity and toxicity accumulation in the meat. By referencing the Nutrient Source Table in this book, I was confident about balanced nutrient intake while on the lions' diet. The first secret is to include beef organ meat that would provide vitamin A, D, Biotin, Folate, Vitamin C and copper.
The second secret is to buy grass-fed instead of conventionally-raised beef. Not only do they taste much better, their omega-3 to omega-6 ratio are way better for optimal health. Also they are antibiotic and growth hormone-free so no worries about being put on a course of low-dose antibiotic from constant meat consumption. Check out more about antibiotic and microbiome from my Let Them Eat Dirt book review.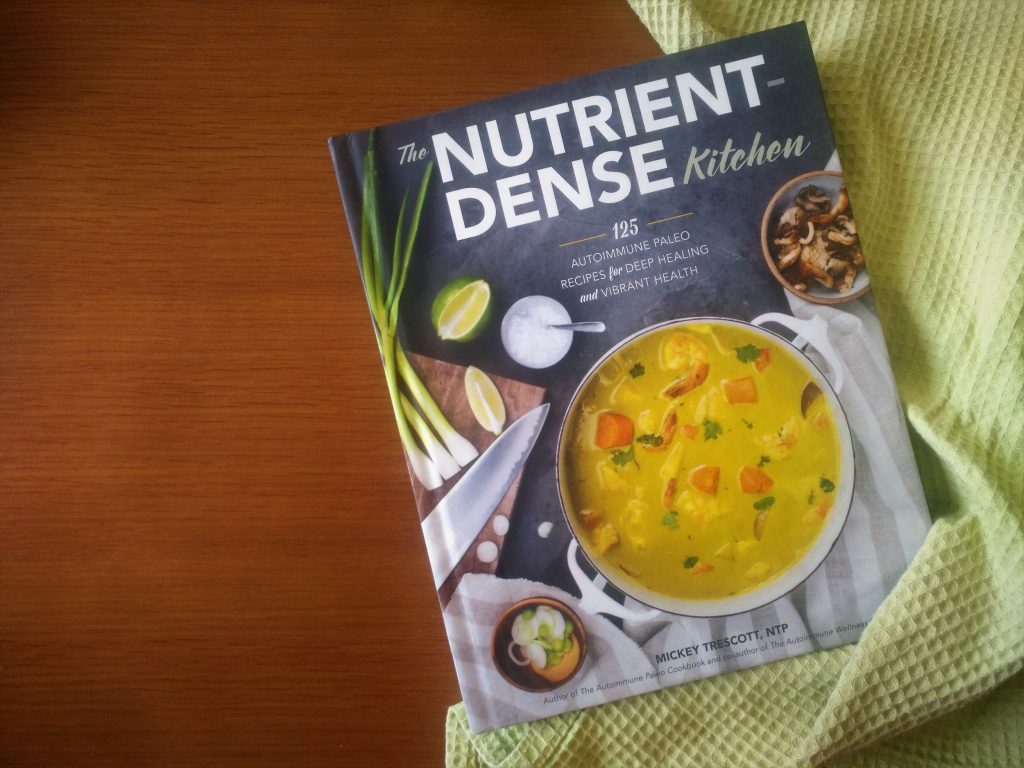 Next step eating for healing – Autoimmune paleo?
This book has inspired me to think beyond ingredient substitutions and copy-cat recipes in gluten-free dairy-free living. While subbing rice vermicelli for wheat noodles tastes heavenly like in this Shanghainese-inspired recipe, or subbing alternative grain flours for wheat flour in these scrumptious Chinese BBQ pork buns. Such implementation of gluten-free cooking is still high in refined carbs, which spikes blood sugar and may cause a range of inflammation.
It would be accurate to say the autoimmune paleo approach presented by the author is liberating. It is okay to not be carb-obsessed for most of the meals. Gluten-free meals doesn't have to be copy-cat recipes loaded with similar looking alternative ingredients. In contrast, embrace the wonderful flavor, texture, color of seasonal vegetables and well-sourced meat, and let the ingredients shine. Rest assured every bite on the plate is nutrient-dense and good for you.
Would autoimmune paleo be the "allergen-free approach to managing chronic illness" (as in Mickey's other cookbook) for our family? We will wait and see!
Inspiration from my favorite recipes
It is so difficult to pick my favorite from this book as they are all so flavor-packed, nutrient-dense yet straight forward to make!
Appetizers
I love how the author incorporate apple in a chicken liver mousse recipe. It sweetens the pate mixture while making the liver taste milder. I would suspect any kind of pear would work well here too!
Broth and drinks
I appreciate the variety of drink presented that are within the autoimmune paleo protocol. It reminds me to include a bay leaf and maybe grated turmeric to enhance my bone broth recipe. Furthermore, the ginger-thyme soda and cinnamon-hibiscus soda drinks are also great summer drink ideas. Note how the warming cinnamon and ginger are present to balance out the coolness of iced soda to the stomach!
Sauces and dressing
For sauces and dressing, I would say the recipes author presented are not so practical for my everyday cooking. Unfortunately I don't own a good blender or hand blender so it would be difficult to achieve the emuulsification of the creamy dressings. (Hubby if you see this line… em… my birthday is coming! Jk) The incorporation of anchovies in the champagne vinaigrette is interesting though. I am sure that would pack a ton of umami to bring any boring salad back to life!
Vegetable dishes
For vegetable dishes, most of them are pretty straight forward yet with flavors that I haven't thought of using before. Mincing fresh tarragon onto roasted beets, adding green apples into my next salad, cooking mashed cauliflower with bittersweet parsnip? Yes count me in! Oh, and don't forget to let beet take its time to roast, even the cubed or sliced ones! I usually do 25 mins but the 40 mins to an hour baking time suggested in this book sure brings more tenderness and sweetness to the humble root.
Meat dishes – the most nutrient-dense recipes
This section offers a great selection of meat and vegetable parings. From soup, stew and zoodle dish, to skillet, skewers and salad bowls, I like the simplicity of the recipes for everyday use. Each of them can be a balanced meal of its own and you don't even need to flip to another page for the side dish! I love to see the incorporation of fruits in meat cooking here. Honestly I got kinda sick of meat since hubby went on the meat-only carnivore diet. Infusing fruits into it would make it a lot more interesting if you are okay with the additional carbs! My favorites are:
chicken soup with lemon juice
raisin braised chicken
pomegranate braised beef
marinated beef with lemon juice or orange juice
cherry-braised short ribs
braised pork chops with fig
BBQ spare ribs with applesauce
pork stew with apples
I am having a happy dance in my mind just thinking about these mouthwatering fruit and meat parings!
Seafood
Ingredient-wise, this section might not be super impressive. However, the author presented a good variety of ways to serve seafood. From pan searing, adding to soups after turning off the heat, baking and broiling, to even mixing it straight from the can with other fresh ingredients. Preparing seafood is al about preserving the inherent delicate flavor and avoiding over cooking. The detailed instructions in this book will definitely help achieve that perfect bite!
Desserts – that are still nutrient-dense!
This section got me consider stocking my pantry with cassava flour, coconut flour, arrowroot starch and collagen peptides (for cold mix recipes) or powdered grass-fed gelatin (for warm liquid stove top recipes)! While I may be be investing into autoimmune paleo baking at the moment, I definitely welcome the idea of including high quality protein and reducing the use of grains in my baking!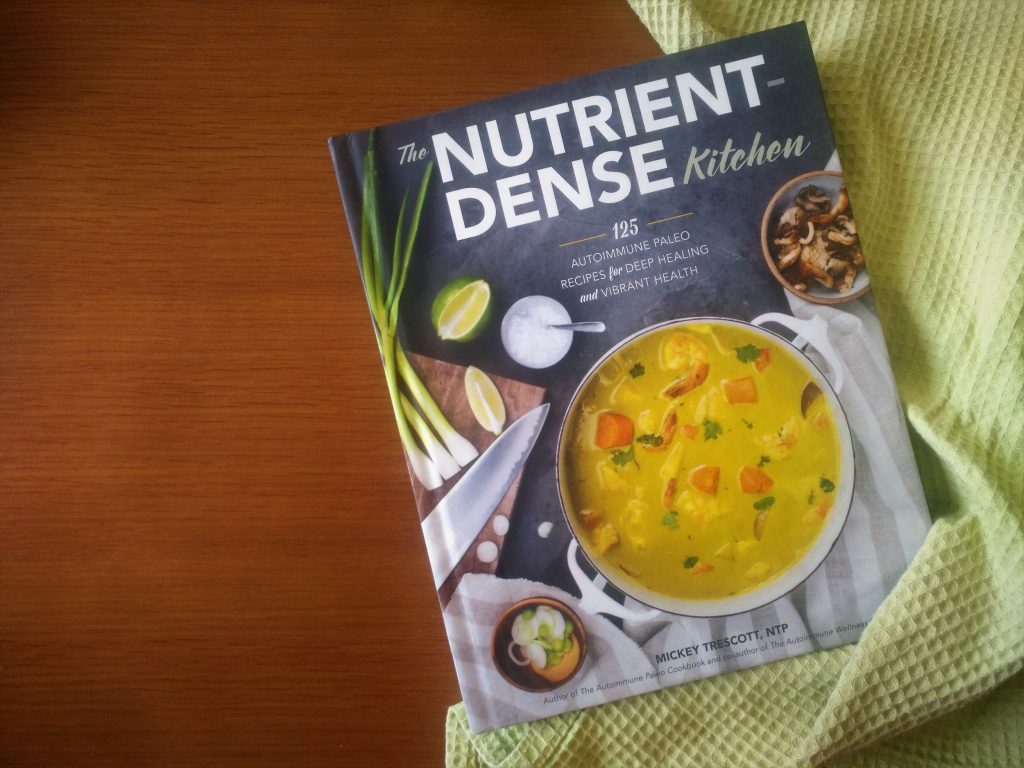 Final remarks
The Nutrient-Dense Kitchen is a great resource for everyday meal planning by any home cook. The detailed cooking techniques, creative ingredient combos along with the knowledge on nutrient density will set you up for a nourished body and mind. It will be a perfect addition to your cookbook collection!
{This site contains Amazon affiliate links. Every purchase made through the link would mean a percentage of income for us. This does not cost you anything extra but it supports this site to bring you more amazing allergen-free content.}
---
---