Pan-seared salmon with celeriac fries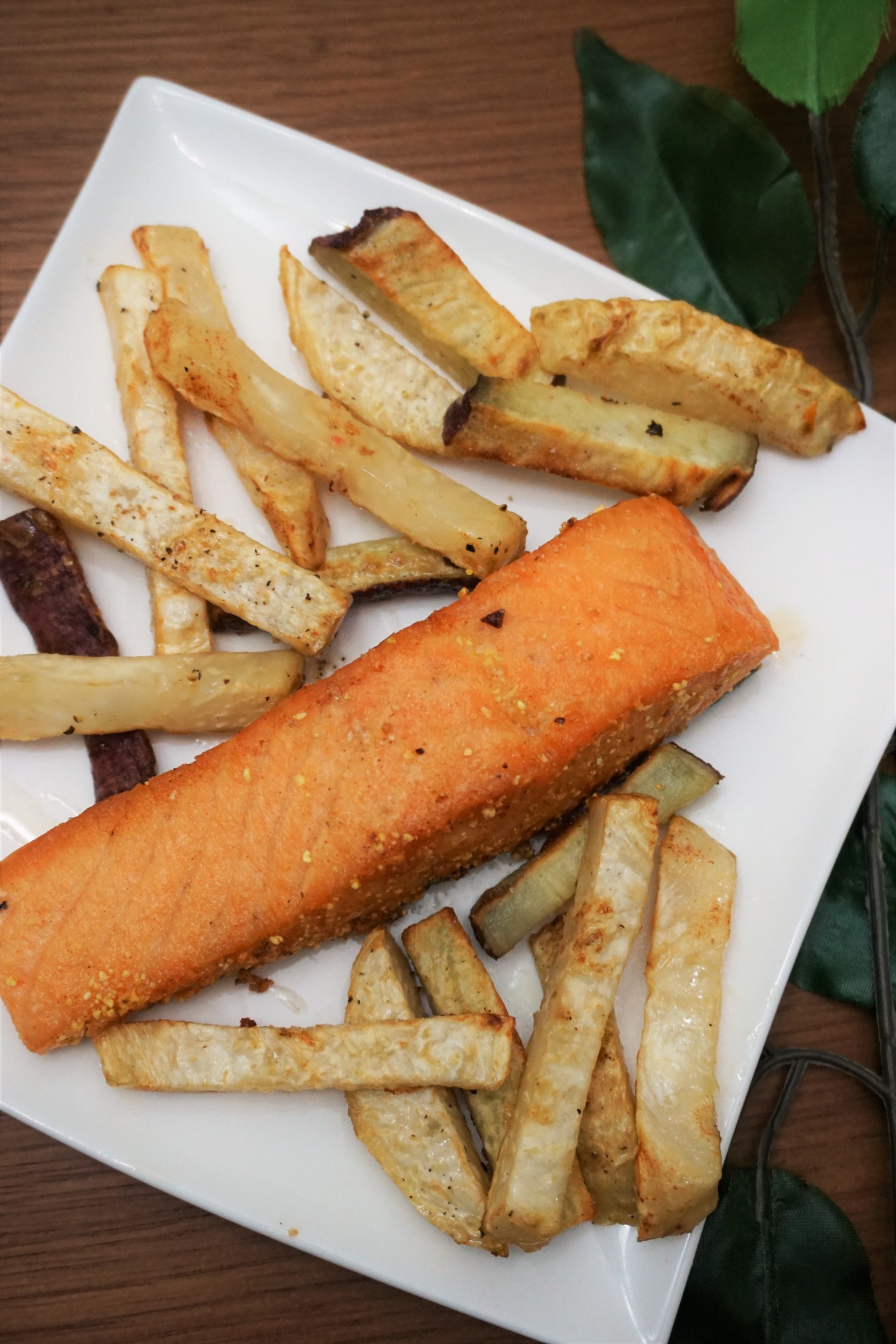 Up your fish and chips game with these delicate pan-seared salmon with celeriac fries! No deep fry batter, just a simple and crisp gluten-free crumb served with a low carb side!
During the third trimester of my pregnancy, all I wanted for dinner was something easy to prepare, rich in micronutrients and protein while moderate on carbs. Therefore, this variation of fish and chips quickly became one of my go-to recipes.
Salmon with … celeriac?
I was first introduced to celeriac from my CSA (community supported agriculture) farmshare box. While it's monstrous look might seem intimidating, it is not that hard to incorporate into day-to-day cooking! The bulb part is so versatile to be cooked any way as other root vegetables. The smaller tangled root are so rich in flavor for making broth too!
According to BBC Good Food, celeriac are best from Fall to Spring. As you can tell from its name, it carries the flavor of celery plant. Celeriac taste subtly bitter yet fragrant. Its texture ranges from crunchy to mushy depending on how you prepare it. You can ribbon them raw into salads or cook it like any other root vegetables.
Here I found that making them into celeriac fries is the easiest way to incorporate them into a meal. It is a nice low-carb side dish. When paired with a good piece of pan-seared salmon, it makes you want to go back for more!
If you are looking to more sheet pan dinner ideas using salmon and interesting root vegetables, check out my SIMPLE BROILED SALMON WITH JERUSALEM ARTICHOKES recipe!
What other types of fish pairs well with celeriac?
I recommend using fishes that carry a strong flavor profile to match the aromatic celeriac. Tuna steaks can be a great alternative in terms of flavor, however them being from a larger fish might pose higher risk in mercury content.
As a close sibling to salmon, rainbow trout pairs well with celeriac too. Trout fillets are usually much thinner so you will have to adjust cooking time accordingly.
Multitasking in salmon and celeriac prep
While pan-searing fish requires 100% hands-on attention, making oven fries (and even air-fryer fries) does not! Simply cut the celeriac fries and coat the fish while preheating the oven. Then while the fries are baking, pan-sear the fish fillet and the meal will be ready around the same time!
Note that if you are mixing other ingredient like sweet potatoes with celeriac, adjust cooking time as needed!
Looking for more quick stove-top dinners?
Check out the Belated recipe collection!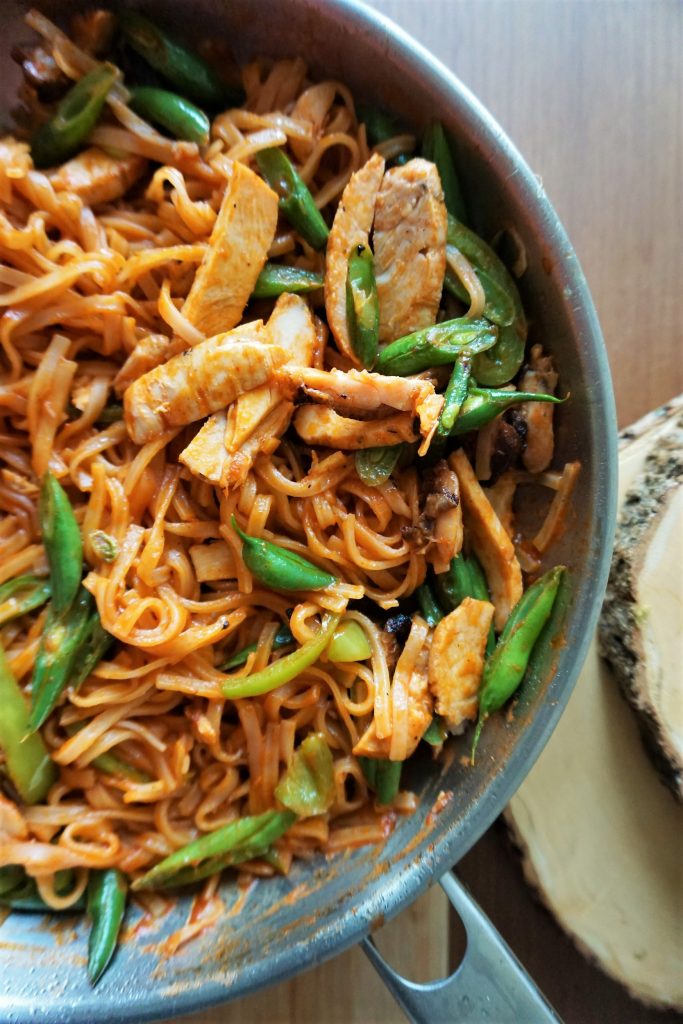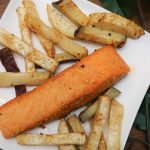 Print Recipe
Pan-seared salmon with celeriac fries
Up your fish and chips game with these delicate pan-seared salmon with celeriac fries! No deep fry batter, simply crispy and yum!
Ingredients
1/2

Celeriac

medium to large

1/2

Sweet potato

optional

1

Salmon fillet

defrosted if frozen

1

tbsp

Cornmeal

1

tbsp

Cornstarch

or arrowroot starch

2+2

tbsp

Cooking oil

light-tasting

Salt and Pepper

to taste
Instructions
Preheat oven at 400F with baking tray or cookie sheet

In a zipper bag or on a plate, coat salmon fillet with mixture of cornmeal and cornstarch

Prepare celeriac (and optional sweet potato) for oven fries. Cut off the rough bottom and peel the skin of the main bulb part

Slice celeriac (and sweet potato) into finger-size fries. In a mixing bowl, toss and coat evenly with with 2 tbsp oil

Pour and spread celeriac (and sweet potato) fries over preheated baking tray. Bake for 20 mins, flipping half way if needed

While celeriac fries are baking, heat a cast iron pan over medium heat

Drizzle 2 tbsp oil in heated pan and place coated salmon fillet over oiled pan immediately

Let fillet pan fry on one side for few minutes then flip to other sides. Sprinkle salt and pepper on each side as you go. Attempting to flip too early may cause sticking and break the breading or the fillet

Once all sides are pan fried, check doneness with a pork to see if the fillet is flaky at its thickest part

Remove baked celeriac (and sweet potato) fries from oven. Season with salt and pepper to taste

Plate your fish and chips and enjoy!
---
---