Grass Jelly Bowl – Indulgent Asian-inspired Dessert
Warmer weather as we welcome Summer's arrival means time for yummy cold dessert bowls! This Asian grass jelly bowl with sweet adzuki beans and rice balls is so cooling and refreshing yet satisfying, perfect for a mid-day snack!⁠
All components in this dessert bowl can be bought ready-made in Asian supermarkets and you can put it together in a breeze. Yet by making each from scratch, you will be able to control every part of the recipe. From the use of sweetener of choice and even adjust the formula for the herbal tea base in grass jelly to what the body needs!
What kind of sweetener should I use for this grass jelly bowl recipe?
Technically you can use any type of sweetener for sweetening up various ingredients in the grass jelly bowl. However there are some considerations around color and moisture content of sweetener in various component of the delicious loaded dessert bowl. (Affiliate links)
For the sweet adzuki beans and grass jelly, they are relatively forgiving that any color like dark blackstrap molasses. Any level of moisture like granulated monk fruit sweetener or agave syrup would work well.
For the sweet rice balls, dough texture and perfectly white pearls are EVERYTHING! Therefore here I would recommend light colored granulated sweetener like granulated monk fruit sweetener. Yet if you are up for processed carbs then good old white sugar would do.
Herbal tea formula by body nature and season
Disclaimer: I am not a certified health practitioner by any means. What illustrated on this website is traditional Chinese wisdom I learned from my family passed down through generations.
In Chinese traditional medicine, both our bodies and herbal ingredients have different natures or attributes. For example, it can be warming or cooling, damp or dry, mild or spicy. When it comes to herbal remedies, balance and or harmony with body nature and season is the key. Of course be careful about herbal-drug interactions, herbal contraindications and other safety precautions like herbal use during pregnancy, etc.
In this case I am using a simple cooling herbal mix for my hubby's warm nature body under summer heat. I selected monk fruit and 5-flower tea in my mix to make the herbal jelly, both of which are of cooling nature. However if you ask whether I would consume this during my painful period, as a cool nature person in the middle of winter, my answer would be a definite no no.
Would like to see more Asian dessert recipe?
Check out the following and indulge!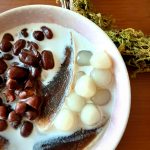 Print Recipe
Loaded Grass Jelly Dessert Bowl
By making every component from scratch, you will be able to control the use of sweetener of choice and even adjust the formula for the herbal tea base in grass jelly to what the body needs! ⁠
Ingredients
Sweet adzuki beans
1

cup

Dried adzuki beans

Soaked for 8 hours

4

cup

Filtered water

1/2

cup

Honey
Grass Jelly
2

cups

Herbal mix

half a monk fruit and 1 cup five-flower tea herbs used here

1

L

Filtered water

1/3

cup

Sweetener of choice

can skip if monk fruit is in the herbal mix

1

cup

Dried shredded agar agar
Sweet rice balls
1/2

cup

Glutenous rice flour

1/4

cup

Filtered water

1

tbsp

White granulated sweetener of choice
Coconut milk base
1

can

Coconut milk

Maple syrup or sweetener of choice

optional
Instructions
Sweet Adzuki Beans
Place dry adzuki beans in a bowl. Cover with a lot of water and let soak for at least 12 hours

Drain soaked beans and place them in slow cooker

Add filtered water and cook on low for 6 hours (see note)

Sweeten cooked adzuki beans with sweetener of choice, and mash if desired

Let cool in container and set aside in the fridge
Grass Jelly
In a small to medium pot (see note), place herbal mix in cold water and bring it to a boil

Turn heat to low and keep simmering for 10 mins or until liquid gets darker in color

Strain liquid through a mesh sieve. Discard herbs and return half of the liquid to heat along with sweetener of choice

Add agar agar strips to herbal liquid and keep stirring until all dissolved

Pour herbal agar mixture into glass container while it is still warm, let cool then set aside in fridge
Sweet Rice Balls
In a bowl, mix glutenous rice flour and granulated sweetener with half of the filtered water with a spatula

If the mixture is too dry to form a dough, add a little bit more water at a time

Once a dough started forming, stop adding water and roughly knead the dough to make it uniform

Bring a pot of water to boil. Cut the dough into quarters and roll into 1 cm to 1.5 cm wide strips

Cut strip at 1 cm to 1.5 cm intervals and roll into balls with floured hands

Boil sweet rice balls until they float to the top. Drain and set aside⁠
Assemble the bowl
Scoop grass jelly in shallow flat scoops with a spatula and place in serving bowl⁠

Assemble dessert bowl with adzuki beans and rice balls toppings⁠

Fill bowl with coconut milk and serve⁠

Optional: add maple syrup to taste!⁠
Notes
You can also make the Adzuki beans quicker using an Instant Pot. Simply put all adzuki beans ingredients in the pot insert, use the beans setting and follow the manufacturer's instructions.
Ideally it is best to boil the herbal mix in a ceramic or any non reactive pot. However if all you have is a stainless steel pot, that works fine too as long as the boiling time is limited.
---
---