Quick Green Lentil Stew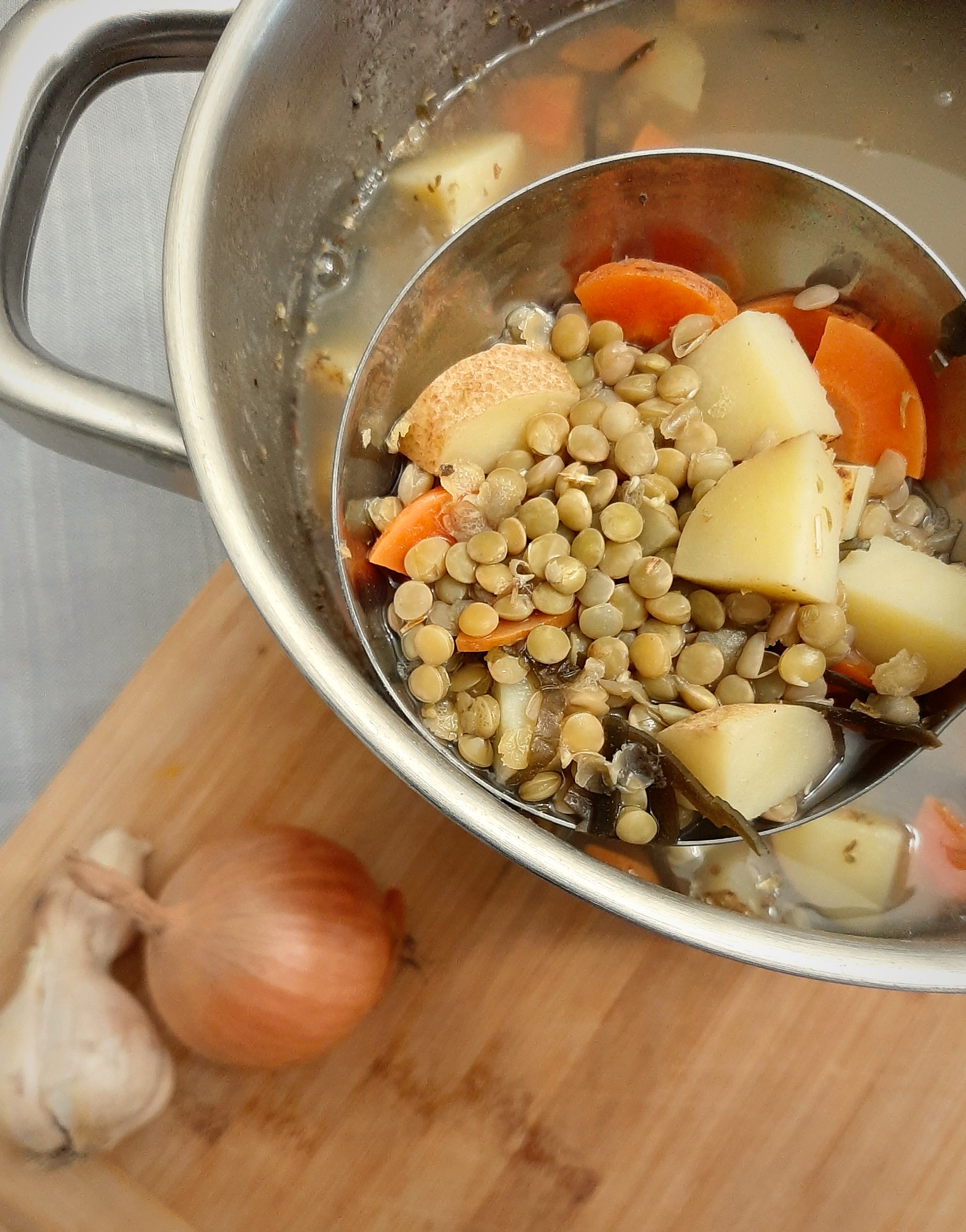 Stuck at home with pantry staples and root veggies? Trying to stretch what you have to avoid trips to the grocery store?
One easy way to do so is to stay with meat-less recipes, bulk up with legumes and root veggies, and flavor with herbs and spices!
In our household, we generally do one meatless meal (lunch or dinner) every day. Aside from saving money, we actually feel better in our skin and gut after every clean meatless meals!

Though lentils are quick to cook, it is even better to soak them overnight and let them sprout! Sprouting legumes breaks down the phytic acid so it will be much easier to digest, plus it shortens the cooking time!! ⁠⁠
If you sprout your legumes long enough, you will basically yield sprouts that you can add to stir-fry's, noodle soups, and even salads!
Looking for more pantry staple recipes?
Check out the Belated recipe collection here!
Quick Green Lentil Soup⁠
Ingredients
3 to 4

medium Potatoes

diced⁠

1

Carrot

diced⁠

1

cup

dried green Lentils

soaked overnight to slightly sprout⁠

4

cups

filtered Water/ Stock of choice ⁠

Dried oregano⁠ or basil⁠

⁠1 Onion

3 cloves Garlic, diced⁠

1

tbsp

cooking Oil⁠
Instructions
In a pot, saute onion and garlic in cooking oil over medium heat until slightly browned⁠

Add diced potatoes, carrots, lentils and stock. Bring the pot to a boil⁠

Turn heat to low and keep simmering until all ingredients are cooked to desired softness ⁠

Season with dried herbs, salt and pepper to serve⁠
---
---