Easy Slow Cooker Rosemary Chicken Quarters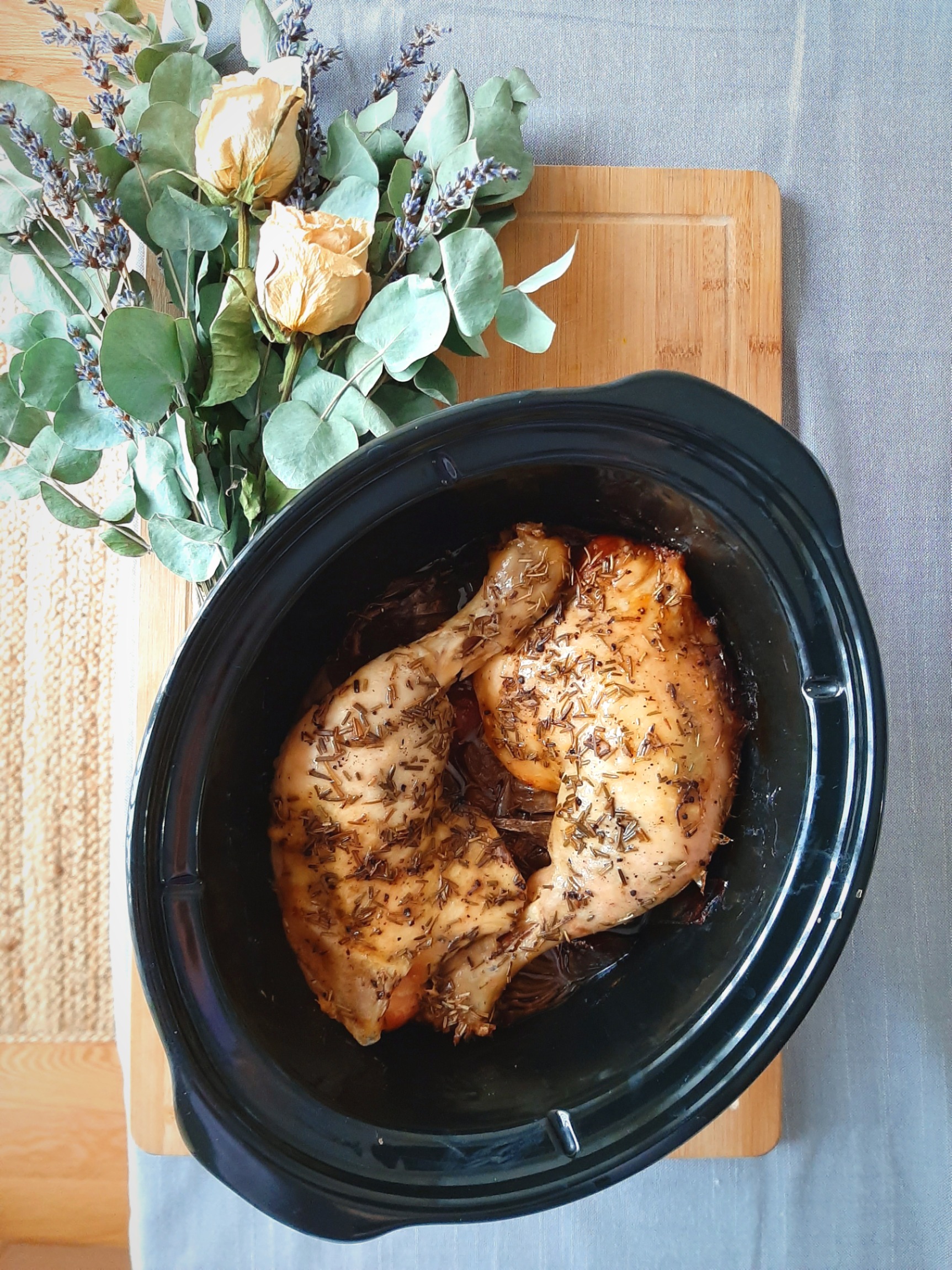 Prefect succulent rosemary chicken quarters infused with herby aroma, all done in slow cooker in 5 hours with minimal prep!

Happy Belated Spring Equinox! (I guess now you know where my blog name comes from ….)

As I published this post, the world was in an interesting time.
WHO declared worldwide pandemic, schools closed, offices shut down. People are stuck at home hoping for the day to return to their previous routines.

Before getting tired of cooking and start browsing a meal delivery app again, check out some simple slow cooker dinner recipes! They are definitely a lifesaver!

Which cut of the meat is best for slow-cooking rosemary chicken?
During this pandemic, everybody are staying at home and maintainining social distance when going out. Therefore we only visit a local butcher store for meats nowadays.
You can get Mennonite-raised, antibiotic-free and hormone-free meats at a reasonable price without exposing to the crowd in grocery stores! ⁠
From my experience, the best cut is the bone-in skin-on thigh and leg quarters. It has the deep flavor of the bones, locked juiciness from the skin, and the juicy tenderness from the red meat.
Why are we not adding liquid to cook the rosemary chicken?
You can always skip the broth/ liquid in cooking meats. As meats cook in slow cooker, it naturally release its juices while cooking. Furthermore, the veggies below will absorb all the flavor and get that rich oily yum!⁠
What vegetable can I add to the slow cooker?
Carrots
Radishes
Rutabagas
Potatoes
Sweet potatoes
Beets
Don't forget to check out your local CSA programs too!! CSA stands for Community Supported Agriculture. It is usually done in a way that customer commit to a growing season of produce boxes by paying a lump sum fee upfront to support the farm's operation.
With summer fast approaching here in Canada, it means registration for the new growing season is open and nothing's better than having organic veggies delivered to door while supporting local farmers!
If you are in the Greater Toronto Area, you can check out the CSA at Zephyr Organics that I have been with!

I don't have a slow cooker! Where can I get one?
Below are some pantry essentials for Belated Brewery kitchen! (Affiliate link)
Looking for more gluten-free slowcooker recipes?
Checkout the Belated recipe collection here!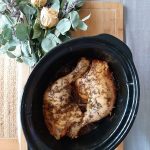 Print Recipe
Rosemary Chicken Quarters
Easy rosemary-infused chicken legs in slowcooker, juicy and perfect result every time!
Ingredients
2

jumbo Chicken leg with thigh and back attached⁠

1

medium Onions

cut in wedges⁠

1

medium root veggie

e.g. Carrots or Radishes, cut in chunks⁠

1/2

Cabbage

cut in wedges⁠

4

tbsp

course Sea salt⁠

2

tbsp

dried Rosemary leaves⁠
Instructions
Place root veggie chunks and cabbage in bottom of slowcooker insert⁠

Place chicken thigh skin down over the veggies, sprinkle and rub on half the sea salt and rosemary leaves⁠

Flip chicken thigh over skin-side up, sprinkle and rub on the rest of the seasonings⁠

Cook on low for 5-6 hours. Enjoy!⁠
Notes
This recipe is designed for 4-quart slow cooker like this one. (Affiliate link) If the slow cooker or instant pot you are using is of bigger size, it is recommended to adjust amount of ingredients accordingly.
---
---