Thanksgiving – A Belated Guide for First-time Hosts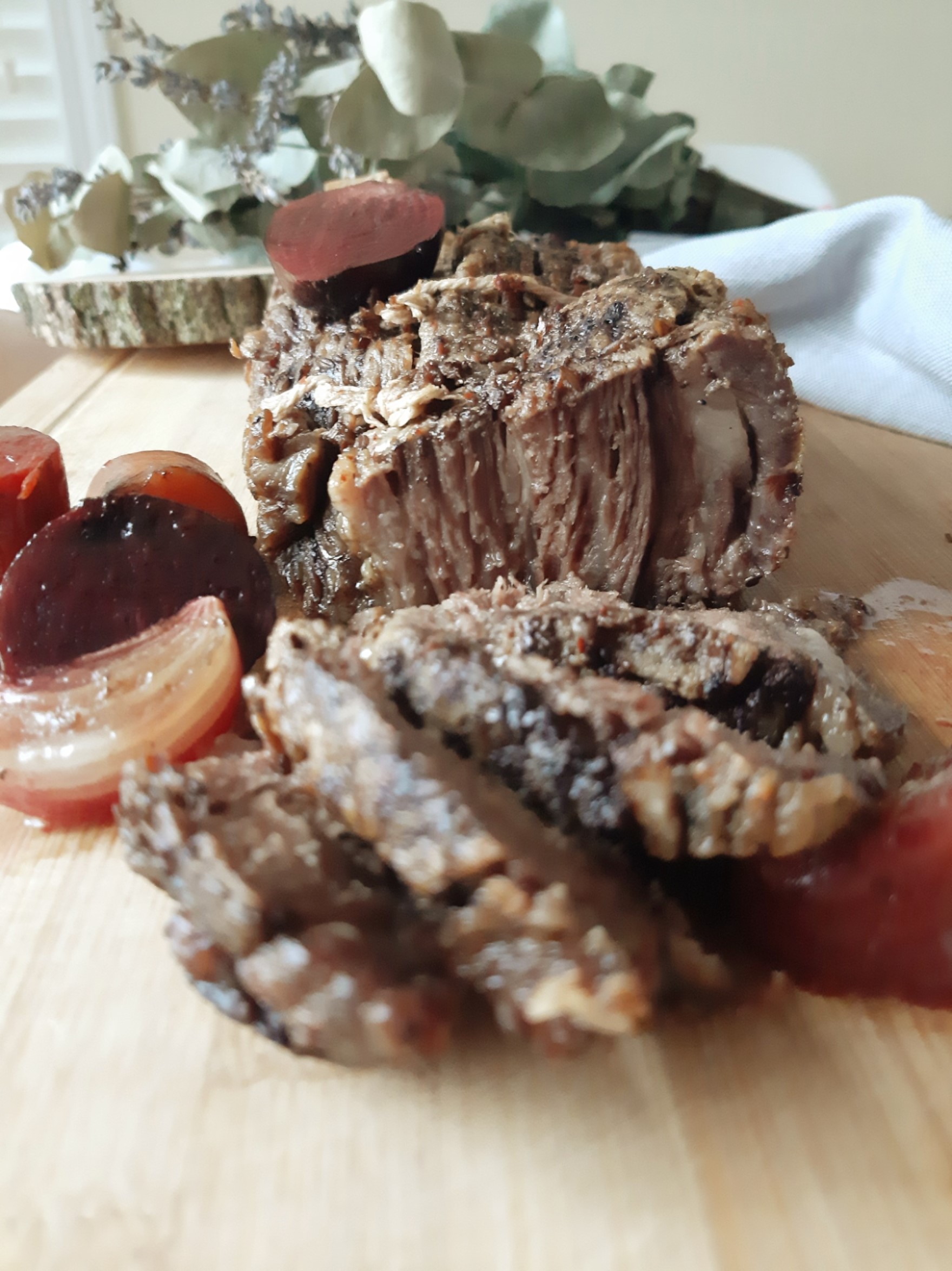 First time preparing Thanksgiving dinner for the household because rona made Auntie Sue cannot host this year??
Feeling unprepared as the day is fast approaching?
Don't worry, I got you covered with simple, no-fail recipes!
⁠
Main option 1: SLOWCOOKER beef and root vegetables pot roast⁠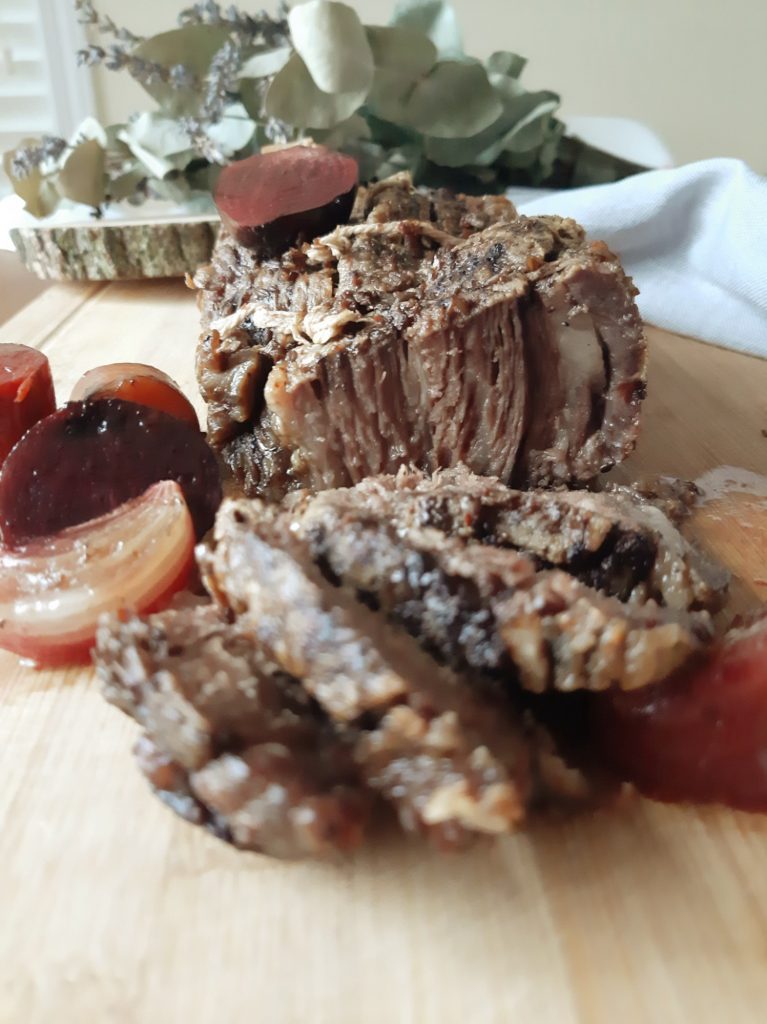 Try this minimal hands-on slowcooker beef roast and you will get a satisfying Thanksgiving dinner plus protein for a week of quick lunches! ⁠
👉See 10 roast beef leftover makeover lunch recipe ideas!⁠
⁠
I have been experimenting crockpot roast beef in the past year, from various cuts of meat, range of moisture and liquid levels to different ways to arrange veggies in the pot.
Obviously also from no searing to searing before slow cooking. This fatty blade roast cut is perfectly done with searing in advance and minimal liquid added in slow cooker. You will never want to miss it!!⁠
What do I need to make the most slowcooker beef roast?
For marinating the roast overnight, I recommend a large rectangular glass container like the one here. (Affiliate link)
For slowcooking, while there are many fancy multi cookers and gadgets on the market, I used a simple 4-quart Crockpot for this recipe.(Affiliate link)

⁠
Ingredients⁠
2 1/4 lbs Boneless inside blade roast⁠
7 mini Beets, or 2 medium beets, cut in 1 1/2 inch pieces⁠
2 medium Carrots, cut in 1 1/2 inch pieces⁠
2 Onions, cut in wedges⁠
2 tbsp whole Cumin seeds⁠
2 tbsp Sea salt⁠
1 tbsp ground Black pepper⁠
1 tbsp Chili pepper flakes or powder⁠
Cooking oil⁠
1/2 cup Filtered water⁠
⁠
See recipe for the Perfectly Moist Roast Beef using a slowcooker!
⁠
Tip! Remember to let the roast rest for at least 15 mins before carving to retain all the lovely juices!⁠
Main option 2: Spatchcocking and dry-brining guide for roasting poultry⁠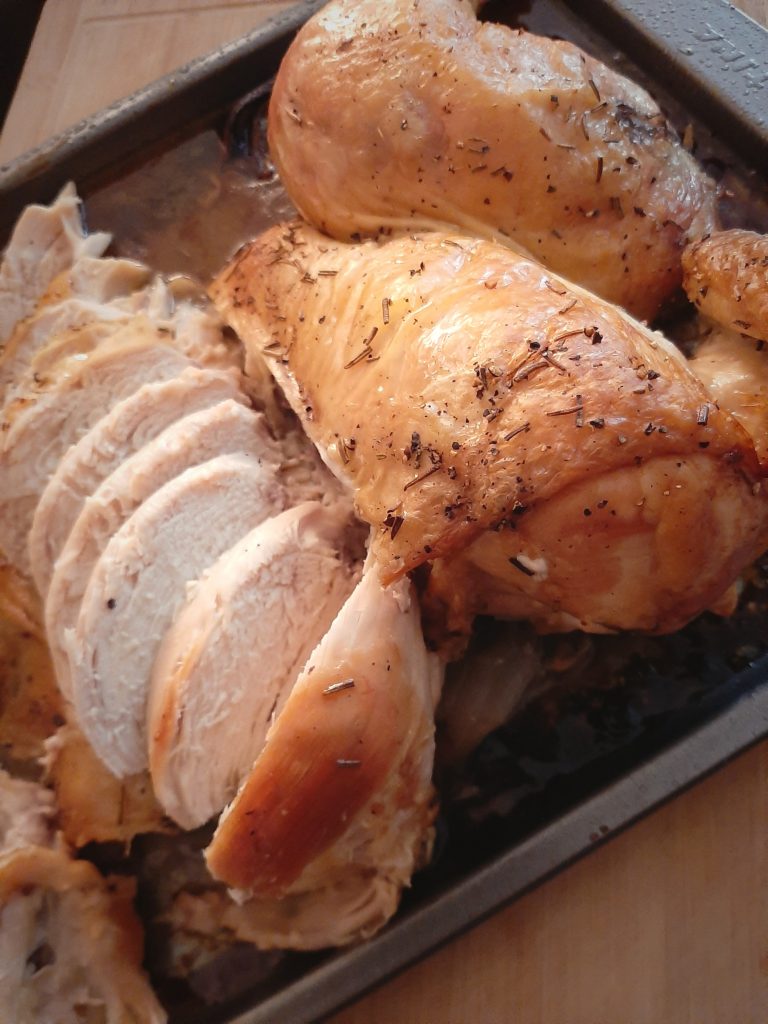 Ingredients⁠
1 whole Chicken\small Turkey (about 7.5lb here)⁠
2 tbsp Rosemary, dried⁠
1 tbsp Thyme⁠
3-4 tbsp coarse Sea salt⁠
2 tbsp ground Black Pepper⁠
⁠
Defrost the bird in fridge for 2 days⁠
Place bird breast facing down, cut along 2 sides of backbone with a kitchen sheath⁠
Save the back bone for making broth later. Split the legs and flip the bird breast side up⁠
Dry-brine the bird: rub ⁠herbs, salt and pepper all over chicken and also under the skin on thigh and breast⁠
Leave dried marinated bird uncovered in fridge overnight ⁠
Bake in preheated oven 425F for about 1.5 hours. Test with meat thermometer or a skewer to see if liquid comes out clear to adjust baking time.⁠
⁠
I was opening and closing the oven door a few times to put in and take out roasted veggies… I put the roast pan of veggies on a rack over chicken so it serves like a tinfoil that prevents chicken skin from burning!⁠
⁠
This jumbo 7.5lbs chicken was bought at a local butcher (P&F Meats) which offers antibiotic and hormone-free meats at reasonable prices!⁠
What do I need to make the perfect spatchcocked roasted chicken or turkey?
It might be to your surprise that I do not own a turkey roaster!! To roast a spatchcocked bird, simply place them on a rimmed cookie sheet!!
Main option 3: SLOWCOOKER whole turkey⁠
This was the recipe I used for hosting my first Thanksgiving with my in-laws!
Ingredients
1 whole Turkey, pre-seasoned
2 tbsp Rosemary, dried⁠
1 tbsp Thyme⁠
3-4 tbsp coarse Sea salt⁠
2 tbsp ground Black Pepper⁠
3 cups butternut squash, cubed

Rub ⁠herbs, salt and pepper all over turkey and also under the skin on thigh and breast⁠
Place turkey and cubed squash into slowcooker
Cook on low for 8 hours
Side: SLOWCOOKER cranberry red cabbage⁠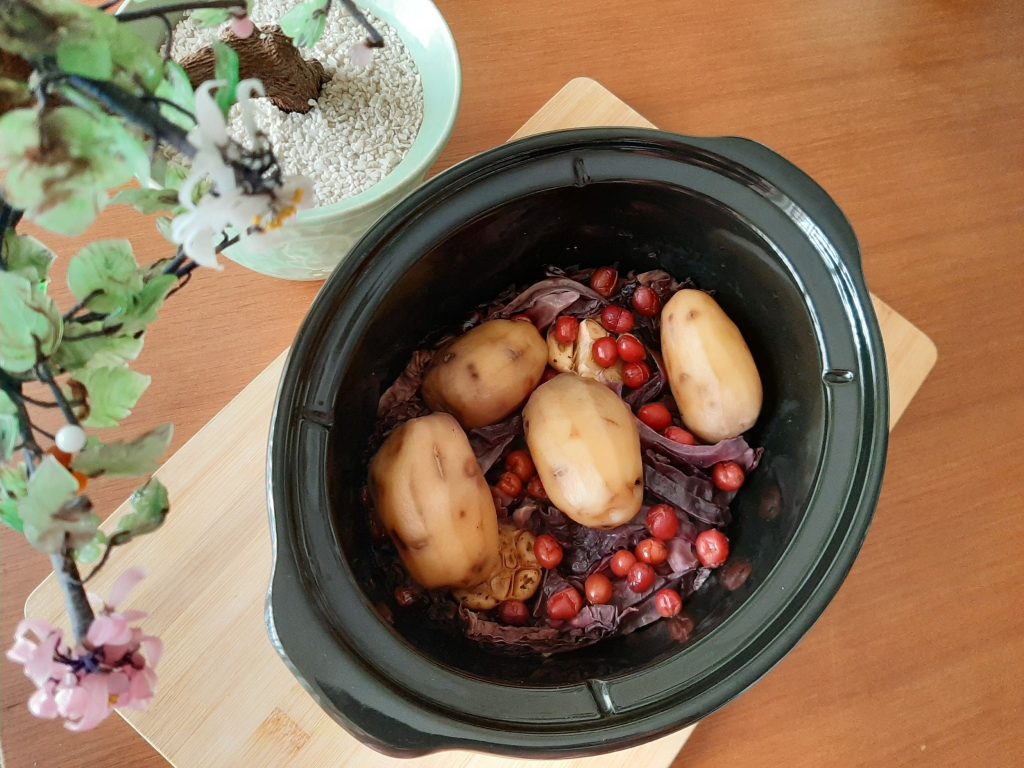 Ingredients:
1 head Red cabbage, cut into thick strips
1/2 cup Cranberries, fresh or frozen
1 whole garlic, cut across in halves
3 Potatoes, peeled
Drizzled olive oil
Salt & Pepper
Dump all ingredients in the slowcooker, cook on low for 4-5 hours.
Dessert: SLOWCOOKER dairy-free custard pudding in a pumpkin⁠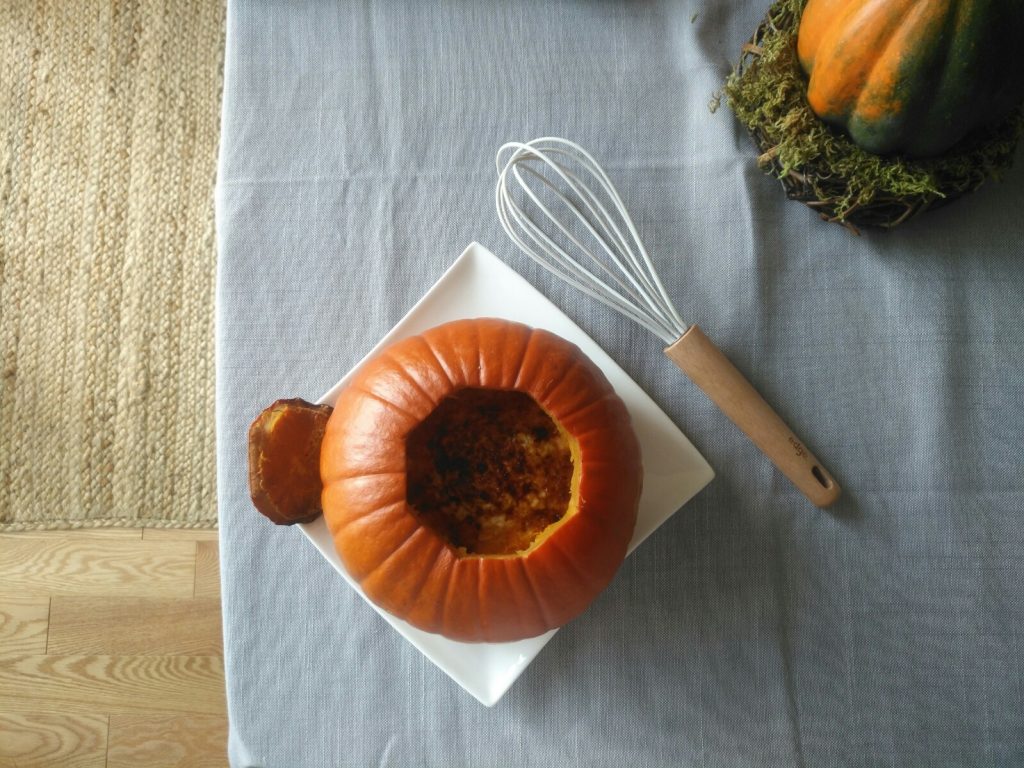 Want to impress your guests with a surprise dessert?😋 Need a new idea on how to use the pumpkin you got on sale this fall?🍂🍁 You might want to try out this cute Thai egg custard in a pumpkin recipe! 🤗
.
1. Carve out the "lid" from the pumpkin and scoop out the seeds. 🎃
2. Keep the stringy parts and cut them small 🔪
3. Mix 2. into the coconut milk, egg and brown sugar mixture.🍯
4. Pour mixture into pumpkin. 🍶
5. Place pumpkin into slowcooker and set on low for 4-6 hours 🕔
6. Serve in slices like how you'd serve a slice of cake. Enjoy!! 😋
.
I put a thin layer of water in the crockpot too and it turned into a beautiful caramelized pumpkin syrup! 🍮
.
P.S. substitute brown sugar with maple syrup to make it paleo !!
Talking about MULTITASKING!!
One thing that I ADMIRE about the auntie who hosts Thanksgiving every year, or even one that cooks for the whole family everyday:
The ability to multi-task and get every course ready by the dinner time!
Once you picked the main you prefer from this guide, you can multi-task the prep in one of following ways:
Run multiple slowcookers + instant pot simultaneously
If you are preparing any of the recipes above with an instant pot, adjust cooking time accordingly.

Stagger them over one and a half day
As the pumpkin custard dessert can be served cold, you can make it in advance, store in fridge and free up the slowcooker for other courses!

Use alternative cooking method to get them all prepared at the same time around the kitchen
If your slowcooker is occupied, you can cook the braised red cabbage with cranberry in a pot on the stove top (exclude potatoes or cut them in small cubes.
For the pumpkin custard, you can also steam them on the stovetop or with a steamoven

---
---