Hong Kong-Style Pork Chop on Rice with Tomato Sauce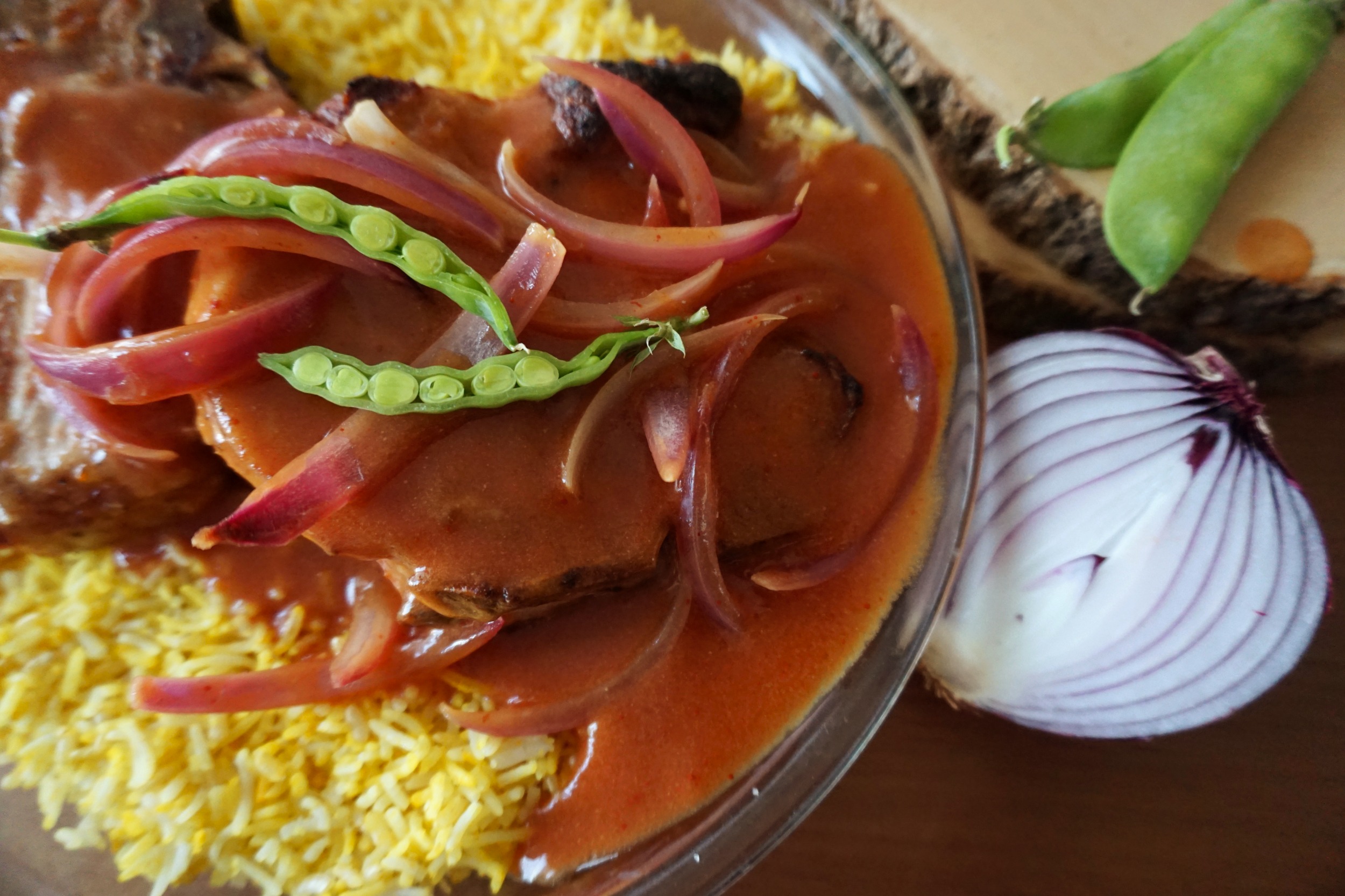 Baked pork chop on fried rice with tomato sauce is definitely a Hong Kong-style classic. However, the pork chop is usually dipped in wheat flour and deep-fried. The fried rice was made with egg, which is a common allergen. Not to mention the loads of dairy added on top as the melted cheese finish.
Don't worry, here at the Belated Kitchen, we are proud to present the healthier version! Gluten-free, dairy-free, and no deep-frying needed for this colorful Hong Kong classic rice dish remake!
Looking for more gluten-free, dairy-free Hong Kong-style classic recipes?
Check out the Belated kitchen recipe collection!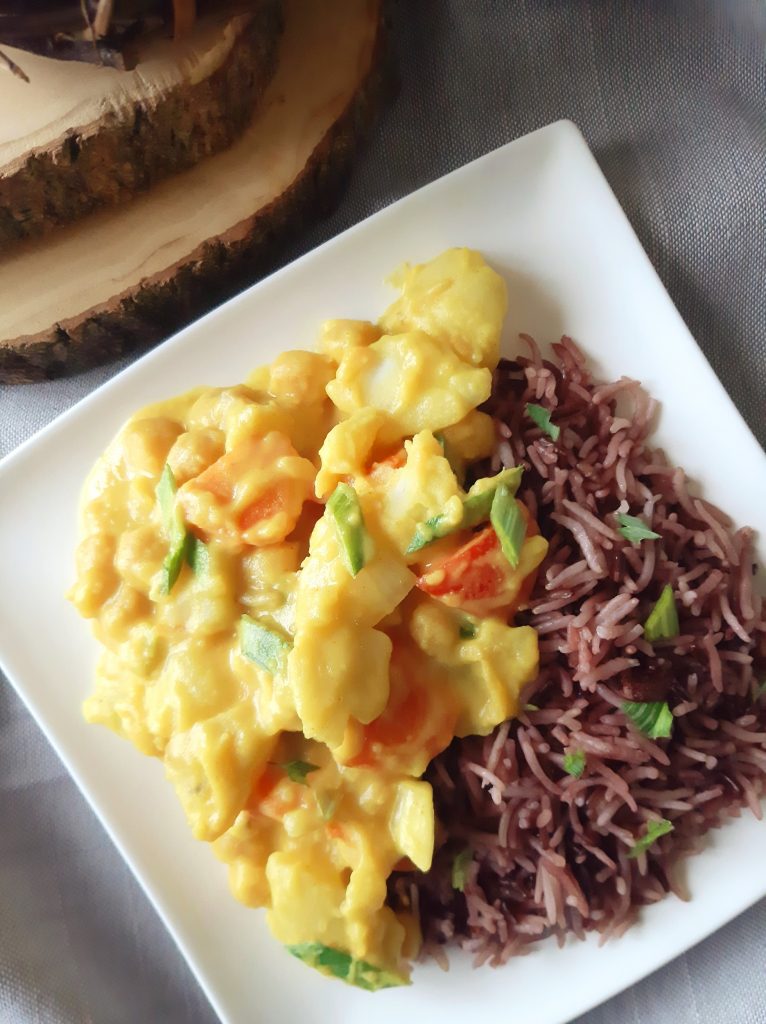 How to make Hong Kong-style Pork Chop on Rice allergy-friendly?
First, we start with a yellow rice base.
Why yellow rice? The traditional egg-fried rice not only gives a flavor boost to the otherwise bland rice base, it also adds color contrast to the bright red tomato sauce. In order to achieve similar result, we added turmeric to the rice base. You can further flavor the rice with salt, onion powder and garlic powder.
Second, perfectly juicy baked pork chop.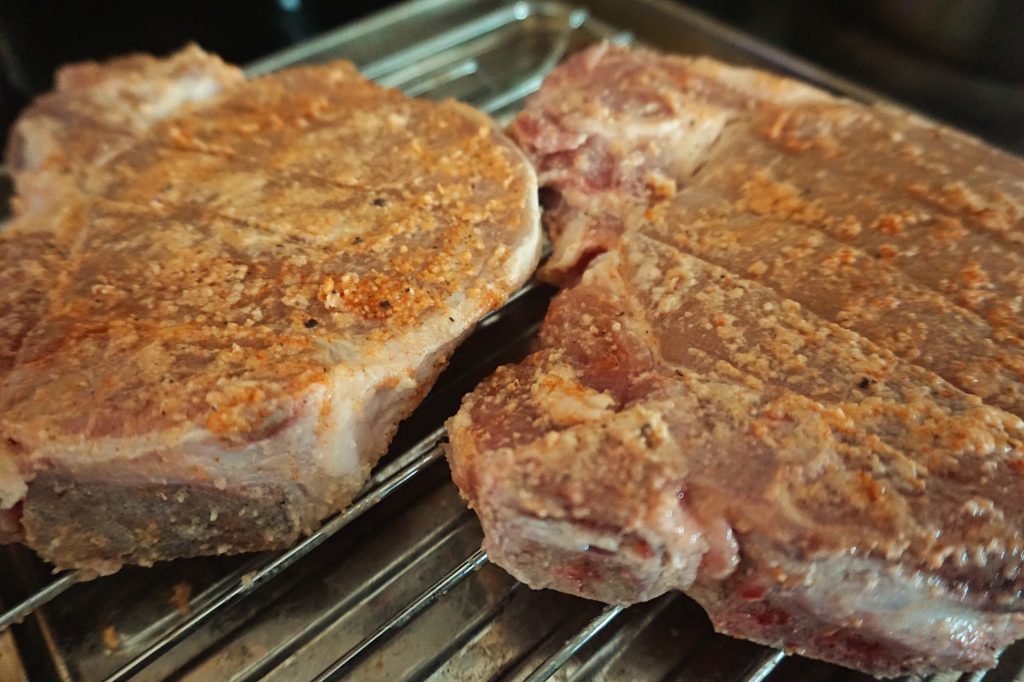 To make the pork chop gluten-free, cornstarch or arrowroot starch is used to substitute wheat flour batter. Baking the pork chop instead of deep-frying also reduces the saturated fat content of the dish. If you have an air-fryer that can accommodate two bone-in pork chops, that would be a great alternative cooking method too!
Third, a creamy and savory tomato sauce.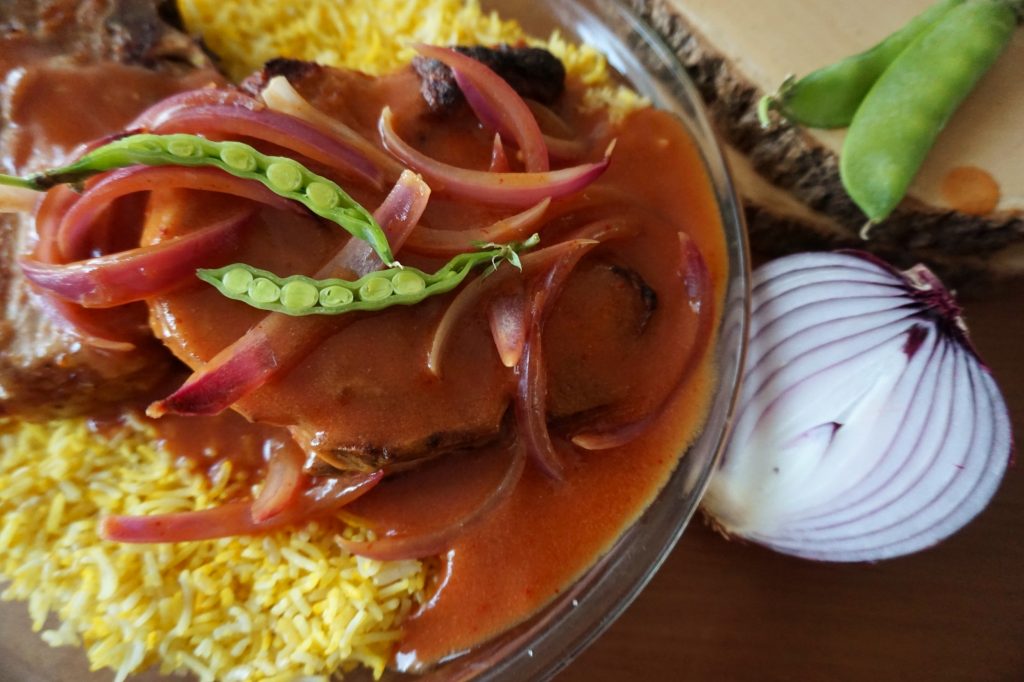 For the optimal thick and rich flavor, I recommend using a tomato paste base or crushed tomato base. Sauté the onions first, then add the tomato base to blend the flavor.
For the saucy consistency, cornstarch or arrowroot starch is the go to. Don't forget to season to taste with salt and pepper too!
How to tenderize the tough pork chop meat naturally?
Honestly, pork chop can be a tricky cut to handle. It must be fully-cooked yet prone to tough texture after cooking. There are two measures adopted here to minimize the toughness.
One, physically break down the tough tissues. You can achieve this with a meat hammer (Affiliate link). If you don't have one, you can also use the back tip of a chef knife like I did.
Two, chemically break down the tough tissues. This includes the use of cornstarch in the marinade. Moreover, you can be creative using papaya puree, pineapple puree and kiwi juice, thanks to the enzyme in the fruits.
Looking for more gluten-free, dairy-free Hong Kong-style classic recipes?
Check out the Belated kitchen recipe collection!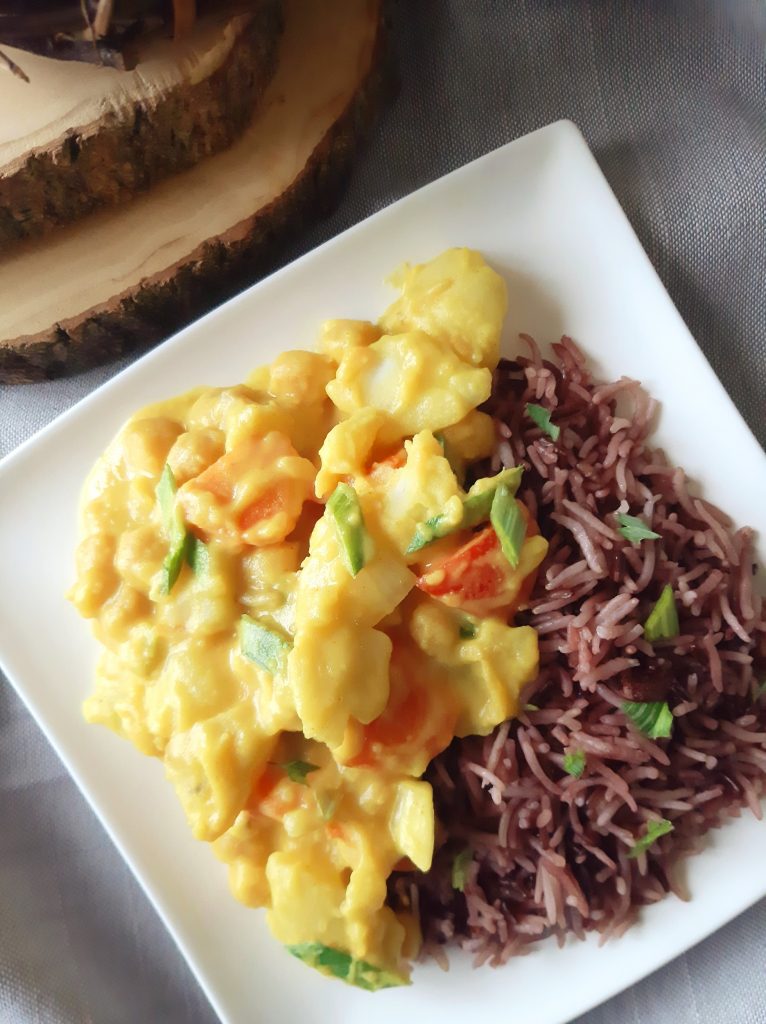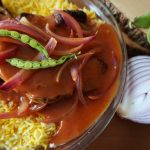 Print Recipe
Hong Kong-Style Pork Chop on Rice with Tomato Sauce
A Hong Kong-Style classic with an egg-free, dairy-free and gluten-free spin!
Ingredients
2

Pork Chop

Bone-in, thick-cut

1 1/2

cup

White Rice

or mixed with brown rice, uncooked

1/2

Onion

Red or yellow, cut in strips along the grain

1/3

cup

Tomato Paste

1/2

tsp

Turmeric Powder

1/2

tsp

Paprika Powder

1

tsp

Onion or garlic powder

1

tbsp

Cooking oil

light-tasting

4 + 2

tsp

Corn starch

or sub with arrowroot starch

Salt and pepper

to taste
Instructions
Coat pork chops with paprika powder, onion or garlic pepper, salt and pepper, and 4 tsp starch. Set aside for 30 mins.

Place uncooked rice, appropriate amount of water as indicate, turmeric and salt in rice cooker. Start cooking and set aside.

Place seasoned pork chop on baking rack over a baking tray. Bake at 400F for 10 mins, then turn temperature down to 375F and bake until center of pork chop register at 145F.

While pork chop is baking, prepare the tomato sauce. Add cooking oil to sauce pan and sauté sliced onion until fragrant.

Add tomato paste and 1/2 cup water to thin out the tomato paste. Stir to combine

As tomato sauce come to a boil, dissolve 2 tsp starch in 1/2 cup cold water and add to sauce pan. Stir until sauce begins to get glossy. Add more water to thin out if desired. Season with Salt and Pepper to taste.

Assemble by adding turmeric rice to dish, place baked pork chop over rice, and pour the tomato sauce on top.

Optional: assemble in an oven-safe dish, top with dairy-free shredded cheese and bake until cheese is golden and melted. Serve immediately.
---
---