One-pan Singaporean Vermicelli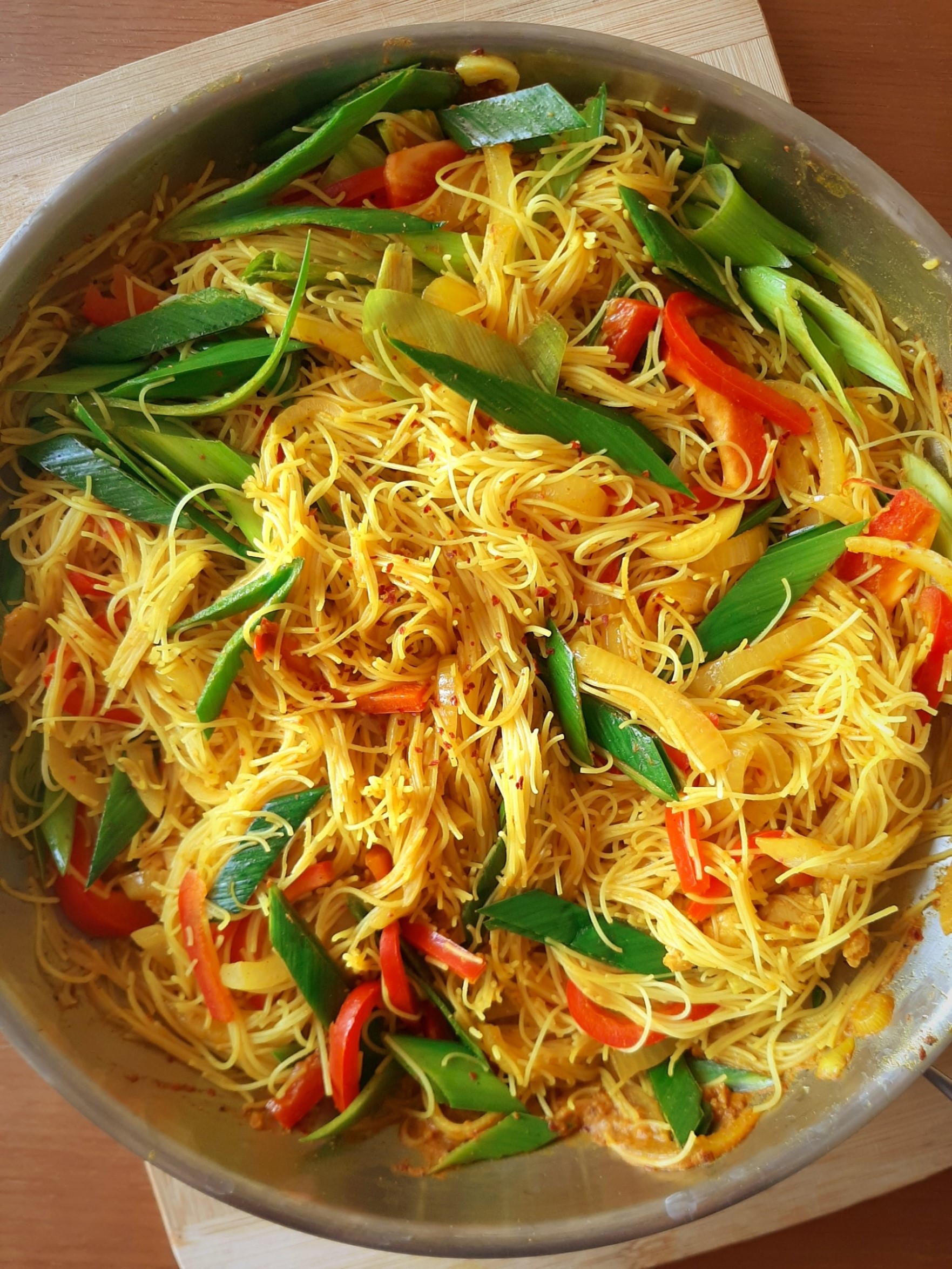 Looking for some last minute lunch recipe that is both flavorful and satisfying? Tired of another boring salad and craving takeout? Try this easy one-pan spiced Singaporean vermicelli and you will not be disappointed! ⁠
⁠
What ingredients are in this Singaporean vermicelli recipe?
This vermicelli dish makes meatless meal exciting with fragrant spices and crunchy veggies. The traditional Singaporean vermicelli are made usually with strips of eggs and/or chicken. Yet as I experimented with this recipe, it turned out surprisingly delicious even without the animal protein!
On that note, feel free to add any plant-based protein like sliced firm tofu to this recipe. You would want to add them in along with the spices so they will get browned nicely with spices coated all over!
Traditional Singaporean vermicelli also contain bean sprouts. While it is so easy to grow your own bean sprouts in the kitchen (post on this coming soon!), it may not be available in your local grocery stores, even my CSA never have them in their farmshare boxes. To get the same freshness and crunch, sliced bell pepper and even sliced celery would make great substitutes!

If you would like to try making your own bean sprouts, below are great places to start! (affiliate links)
Eat in-season and grow your own!
As Spring finally arrived, I have been getting A LOT of leeks from my CSA at Zephyr Organics Farmshare and they are actually perfect for Asian wok recipes like this! ⁠
Leeks are actually very fast growers with minimal requirements! Don't worry and just use a generous amount of your leeks for this recipe, saving the bottom root part. If you stick them in water, they will regrow super fast for your next leek dish!⁠

⁠
Which type of vermicelli you used for this recipe?
⁠If you are wondering which type of vermicelli is used in the recipe, I would say you are not the only one wondering because there are just too many types out there!
To keep it gluten-free and quick cooking. I recommend the thin rice noodle type like these ones below. (Affiliate links) They are so thin that it almost cooks instantly the moment it touches boiling water so be sure not to overcook them!
Looking for more plant-based gluten-free recipes?
Check out the belated recipe collection here!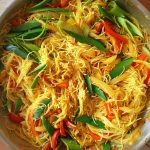 Print Recipe
Vegan Singaporean vermicelli
Deliciously spiced vegan Singaporean vermicelli with seasonal ingredients, ready to take your wok to the next level!
Ingredients
200

g

Dried rice vermicelli⁠

or half a package

1

Leek

use only the green part, sliced diagonally⁠

1/2

Onion

sliced

1

Bell pepper

sliced, feel free to mix the colors

3

tbsp

Curry powder

or mix 1 tbsp Turmeric powder, 2 tsp 5-spice powder and 2 tsp chili powder

2

tbsp

Cooking oil

preferably avocado or coconut oil

Salt

to taste
Instructions
Soak vermicelli in warm water until it softens, then drain, roughly cut with a pair of kitchen shear and set aside⁠

Heat a frying pan on medium to low heat with cooking oil, then add onion and curry powder. Stir to prevent ingredients from burning⁠

When onions are cooked through and spices are fragrant, add in the remaining ingredients and move the pan off from the heat⁠

Stir until ingredients are well combined and add salt to taste⁠

Garnish with chili pepper flakes and serve!⁠
---
---