Roasted Chickpea and Leek pasta – vegan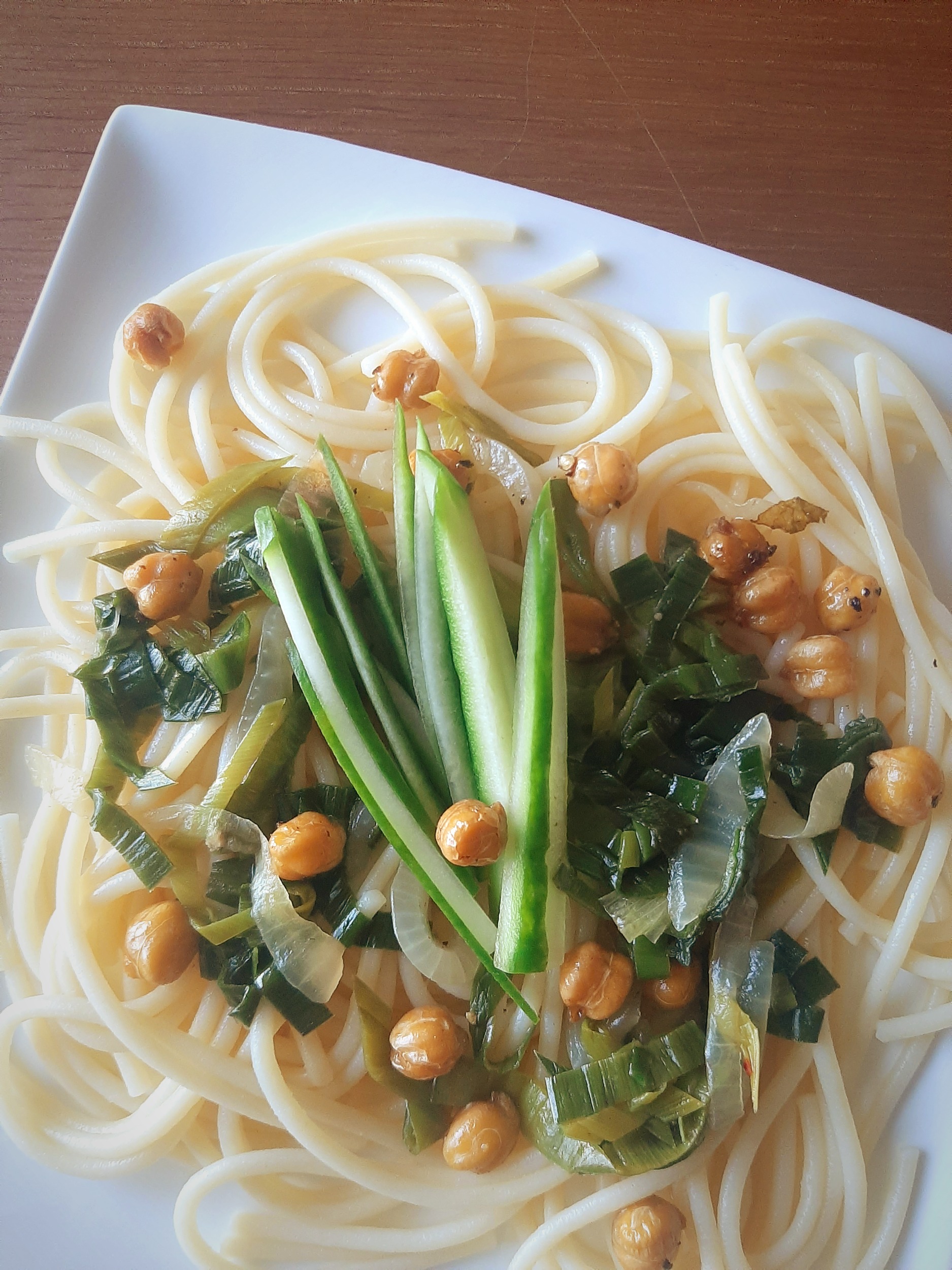 This chickpea and leek pasta is meatless and light, yet packed with crunch and flavor!
Got bunches of leeks that keeps regrowing on your kitchen counter? Looking for light dinner recipe before indulgent meals over the weekend? This leek pasta might be the delicate dinner recipe for you!⁠
Modified from my green pasta recipe, this chickpea and leek pasta is meatless and light. With good multitasking when prepping this dish, you can have your fancy-ish dinner ready in 20 mins!⁠

What ingredients are in this recipe?
From its name Chickpea and Leek Pasta, you probably get that this recipe takes chickpea and leeks!
For chickpeas, you can use either canned or dry chickpeas.(affiliate links below) Just remember to soak the dry chickpea until double to triple in size before roasting!
I get my leeks from my CSA at Zephyr Organics. It is just so much fresher and sweeter than any I ave tasted from grocery stores!
Which gluten-free pasta should I use for this leek pasta recipe?
I would say any kind works but adjust how you cut the ingredients according to the pasta shape. Below are some of my favorites. (Affiliate links)
For example if you are using shorter shaped pasta like fusilli or penne, I recommend cutting your topping ingredients into cubes. However, if you are using skinny long-shaped pasta like spaghetti, angel hair or linguine, then cutting into thin strips would make the most sense.
What tools do I need to multitask for this recipe?
I love to use my compact @cuisinart (Affiliate link) steam oven instead of the huge oven range for weeknight cooking. It takes MUCH less time to preheat, convenient steam-bake options and save so much energy for each use!
Can I substitute the ingredients in chickpea and leek pasta?
The answer is yes!!
I have tried using cucumber, baby spinach, radish leaves, celery and avocado in this recipe and they all turned out perfect! The best part? All these greens substitutes can be eaten raw. Therefore you can skip the saute part and enjoy a fresh bowl of green pasta right away!
You can also substitute chickpea with roasted chicken too.
Looking for more dairy-free pasta ideas?
Check out the Belated recipe collection!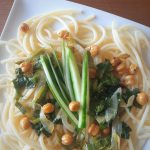 Print Recipe
Chickpea and Leek Pasta
Modified from my green pasta recipe, this chickpea leek pasta is meatless and light. Ready in 20 mins!⁠
Ingredients
1

cup

Chickpeas

canned or pre-soaked from dried⁠

1/2

bunch

Leek

cut into thin strips⁠

1

Onion

cut into thin strips⁠

1/2

package

Gluten free spaghetti

2

tbsp

Cooking oil

Salt and pepper to taste
Instructions
Bring a pot of salted water to boil. ⁠

Coat chickpeas with 1 tbsp cooking oil, salt and pepper. Cook in toaster oven at 350F for 10 mins (no preheating required!)

Place pasta in boiling water, then cover and move pot away from heat⁠

Heat frying pan with 1 tbsp cooking oil, saute leeks and onions until soft. Season to taste⁠

Drain pasta, top with sauteed vegetables and roasted chickpeas. Serve and enjoy!⁠
Notes
Optional: dress with olive oil and top with sliced cucumber!
---
---