Budget Chickpea Yellow Rice and Millet⁠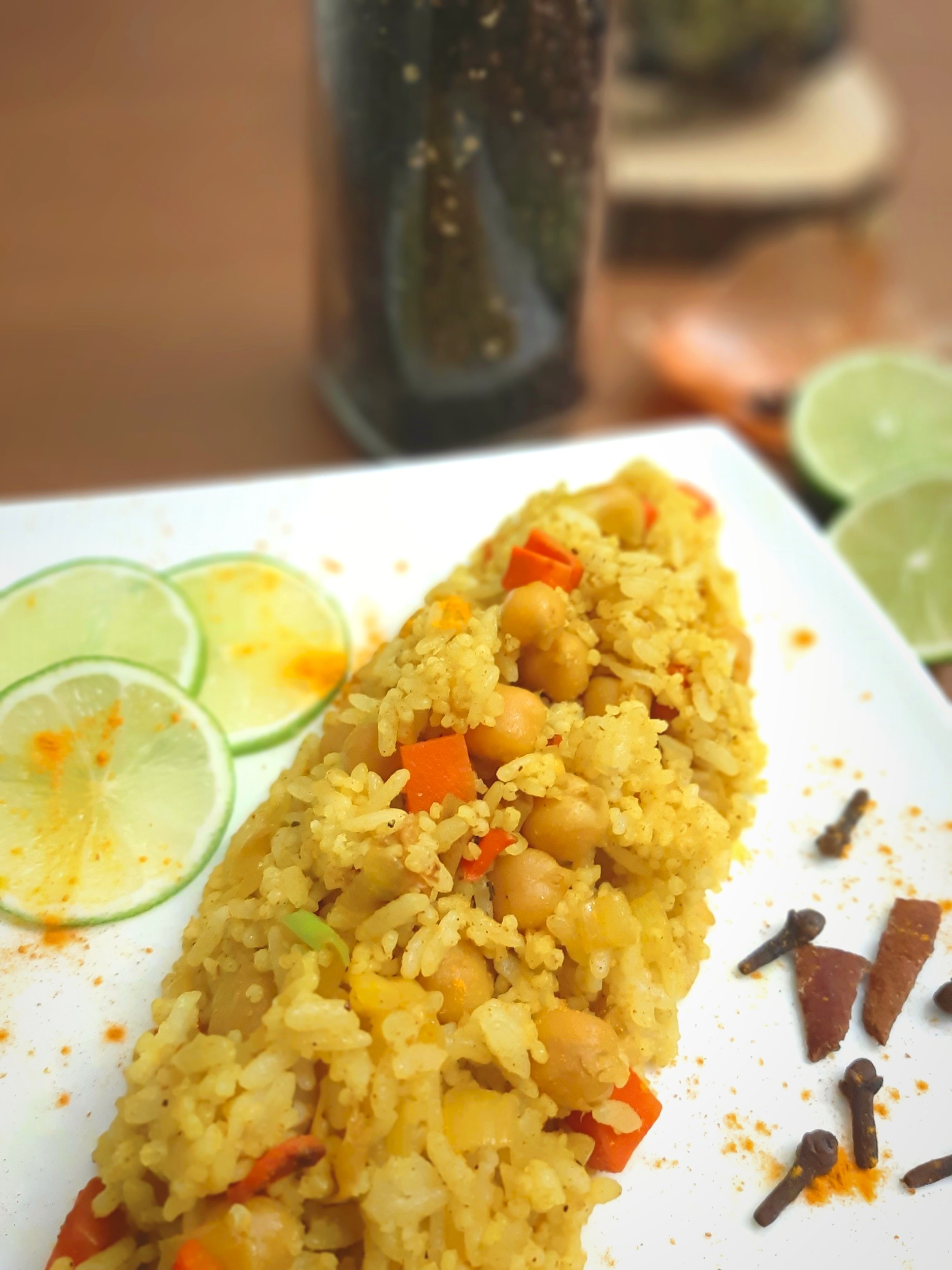 Vegan and flavor-packed dinner made from pantry staples and long-shelf-life vegetables, ready in under an hour. With antioxidant-rich turmeric, aromatic spices and zesty lime, you will never regret making this yellow rice recipe!
Though grocery store shelves are not as empty recently (a big thank you to all the heroes working hard out there to keep the supply chain and business operations going!), it is still a good idea to minimize the number of shopping trips needed and make the most out of pantry staples!⁠

Therefore, in the mist of worldwide lock-down, I created this yellow rice recipe that:
Uses pantry staples: Rice, dried or canned chickpeas, dry spices
Uses produce with long shelf life: carrots, onions, lime
Allergen-friendly: gluten-free, dairy-free, soy-free, egg-free, nut-free, dairy-free
Vegan and vegetarian
Wholefoods: only food in its most basic form, nothing highly processed!
⁠Is this yellow rice recipe a healthy choice for my family?
This easy vegan chickpea yellow rice uses ingredients that are full of antioxidants and immune-boosting nutrients, perfect for cold and flu seasons like this!
For curry-lovers, this also satisfy your curry-cravings without worrying bout potential allergens commonly found in restaurant take-outs like dairy, peanuts and tree nuts!

Did I mention the freshness and tartness from lime juice makes us feel so refreshed after staying at home for so long too?⁠
What tools and ingredients I need for this recipe?
First if you are not confident in cooking rice on the stove top, I definitely recommend investing in a rice cooker (Affiliate link). It is such a reliable and staple appliance that home cooks in Asia use them every single day!
For the pantry staple ingredients, you can definitely buy them online and have them delivered right to your door step! Below are some of my favorites. (Affiliate link)
Want to see more rice cooker recipes?
Check out my other simple dinner ideas using rice cooker here!
⁠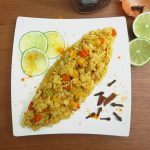 Print Recipe
Chickpea Yellow Rice and Millet⁠
Warming spiced rice with pantry staples and long shelf life veggies, aromatic with a bit of tangy touch.
Ingredients
1

cup

White rice

uncooked ⁠

1/2

cup

Millet

uncooked ⁠

1

cup

dried Whole chickpeas

or 1 can canned Chickpeas⁠

1/2

Carrot

diced⁠

1

tsp

Cinnamon bark pieces⁠

1

tsp

whole Clove⁠

1

tbsp

Turmeric powder⁠

1/2

tsp

5-spice powder⁠

2-4

cloves

Garlic

minced ⁠

1

tbsp

Cooking oil⁠

Salt⁠
Instructions
Soak millet and chickpeas for 8 hours or overnight ⁠

Cook millet and rice, together with Cinnamon, Clove and 1 tsp salt with a little less water for fluffy grains (e.g. a little lower than 1.5 cup mark in the rice cooker insert)⁠

Place chickpea in pot, cover with salted water. Boil until desired tenderness⁠

Drain liquid from chickpea. Add cooking oil, Turmeric and 5-spice powder to pot. Saute garlic, carrot and chickpea.⁠

Mix rice and millet in pot of chickpea mixture. Season to taste⁠

Serve with squeeze of lime juice⁠
---
---