No-Fail Roasted Chicken⁠ OR Turkey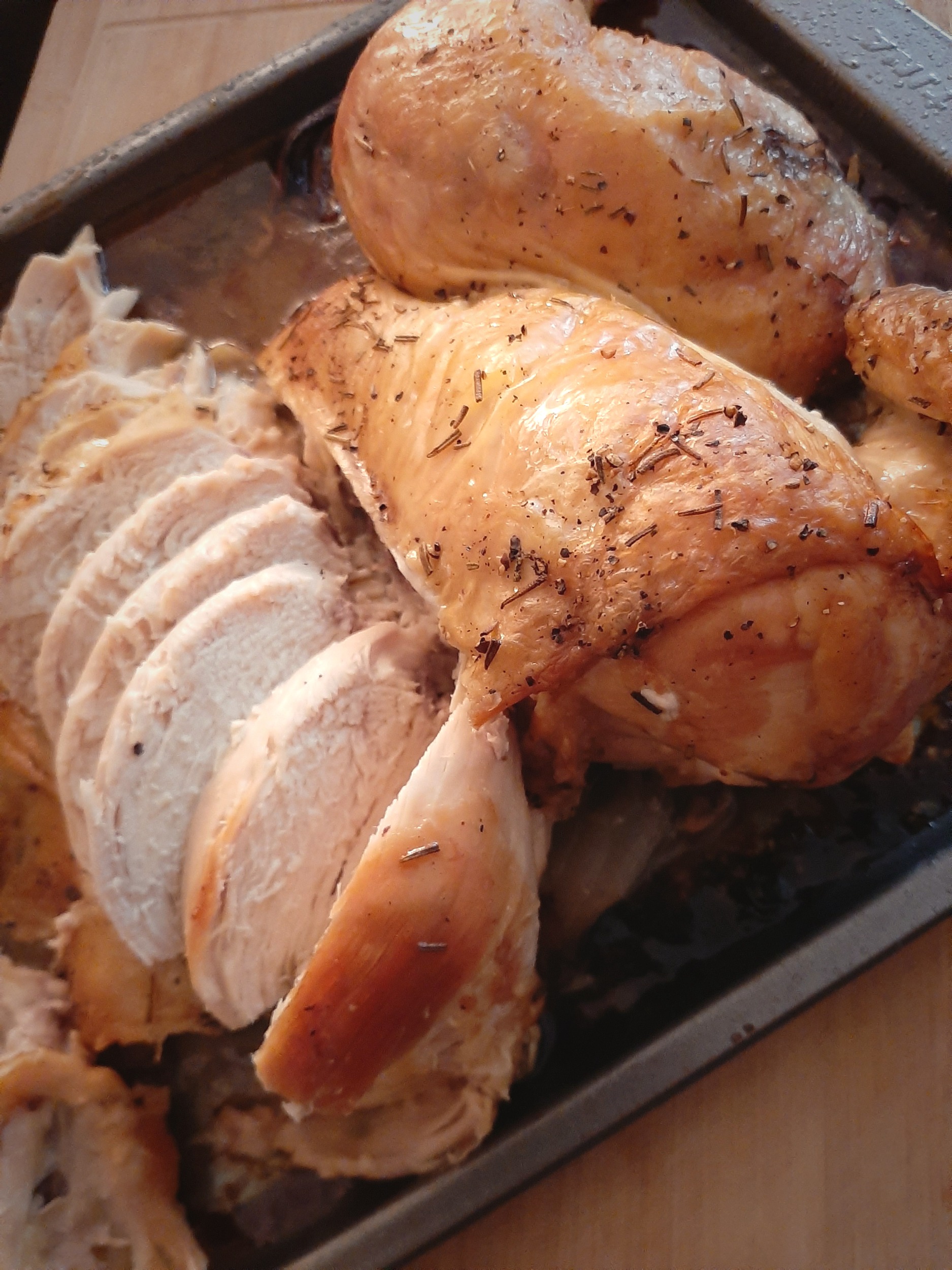 Got a whole chicken or turkey in freezer stockpile? It is time to defrost the baby and make this beautiful fool-proof roasted chicken! Using this recipe you can get perfect result with CRISPY SKIN and JUICY BREAST MEAT!! Once you master the skill in spatchcocking poultry and dry marinating, you are ready to wow your guests when the lock-down is lifted!!!⁠ (Yes the day will come!! )⁠
Secret to perfect roasted chicken!
SPATCHCOCKING and DRY MARINATING!!!!!
Yes you are seeing it right, it is spatchcocking and dry marinating your bird that makes it get its crispy skin and juicy breast meat.
Spatchcocking is a method to flatten out whole poultry for cooking on a flat surface like a sheet pan, cast iron pan or even on the grill. By removing the backbone, a bird can be flatted out with most of the skin facing up. This helps to get crispy skin all over. At the same time, it also even out the exposure to the heat elements. So that the breast will not be overcooked and dried out while the red meat will reach the internal temperature sooner!
Dry marinating/ dry brining is a method to preseason meat without using brining liquid. By leaving dry herbs and spices covered poultry in the fridge overnight, it achieve the following:
Perfect flavor infused into the meat
Dried out skin that get crisped up in oven
Seasoned meat that can retain moisture during cooking
Looking for more keto protein recipes?
Check out the Belated recipe collection here!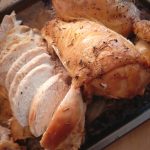 Print Recipe
No-Fail Roasted Chicken⁠Turkey
Got a whole chicken or turkey in freezer stockpile? It is time to defrost the baby and make this beautiful fool-proof roasted chicken!
Ingredients
1

whole Chickensmall Turkey

about 7.5lb here⁠

4

tbsp

Rosemary

dried⁠

1

tbsp

Thyme⁠

4

tbsp

coarse Sea Salt⁠

2

tbsp

ground Black Pepper⁠
Instructions
Defrost the bird in fridge for 2 days⁠

Place bird breast facing down, cut along 2 sides of backbone with a kitchen sheath⁠

Save the back bone for making broth later. Split the legs and flip the bird breast side up⁠

Dry marinate the bird: rub ⁠herbs, salt and pepper all over chicken and also under the skin on thigh and breast⁠

Leave dried marinated bird uncovered in fridge overnight ⁠

Bake in preheated oven 425F for about 1.5 hours. Test with meat thermometer or a skewer to see if liquid comes out clear to adjust baking time.⁠
I was opening and closing the oven door a few times to put in and take out roasted veggies… I put the roast pan of veggies on a rack over chicken so it serves like a tinfoil that prevents chicken skin from burning!⁠
⁠
This jumbo 7.5lbs chicken was bought at a local butcher (P&F Meats). They offers antibiotic and hormone-free meats at reasonable prices!⁠
---
---