Gender Reveal Cake, Gluten-free Vegan!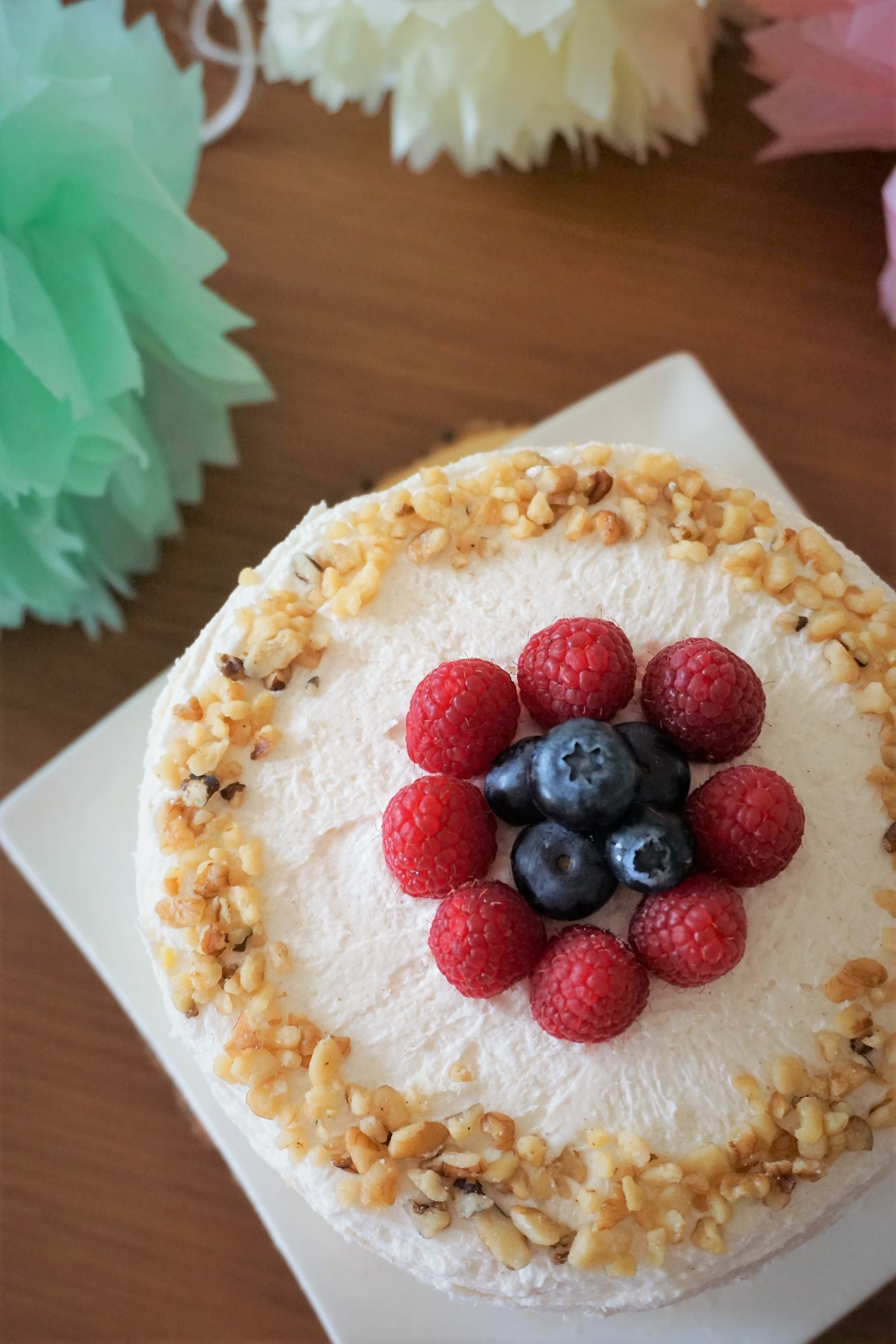 As promised, here is the recipe for my gluten-free dairy-free gender reveal cake made during my second trimester. My hubby and the rest of the family really enjoyed the cake and the surprise!
Bonus: the cake is filled with fruits and veggies! Continue reading to learn more.
Belated Baby journey
I have posted my First trimester and Second trimester diary on the blog. For all the post related to family, pregnancy and motherhood, you can find them all and follow along here!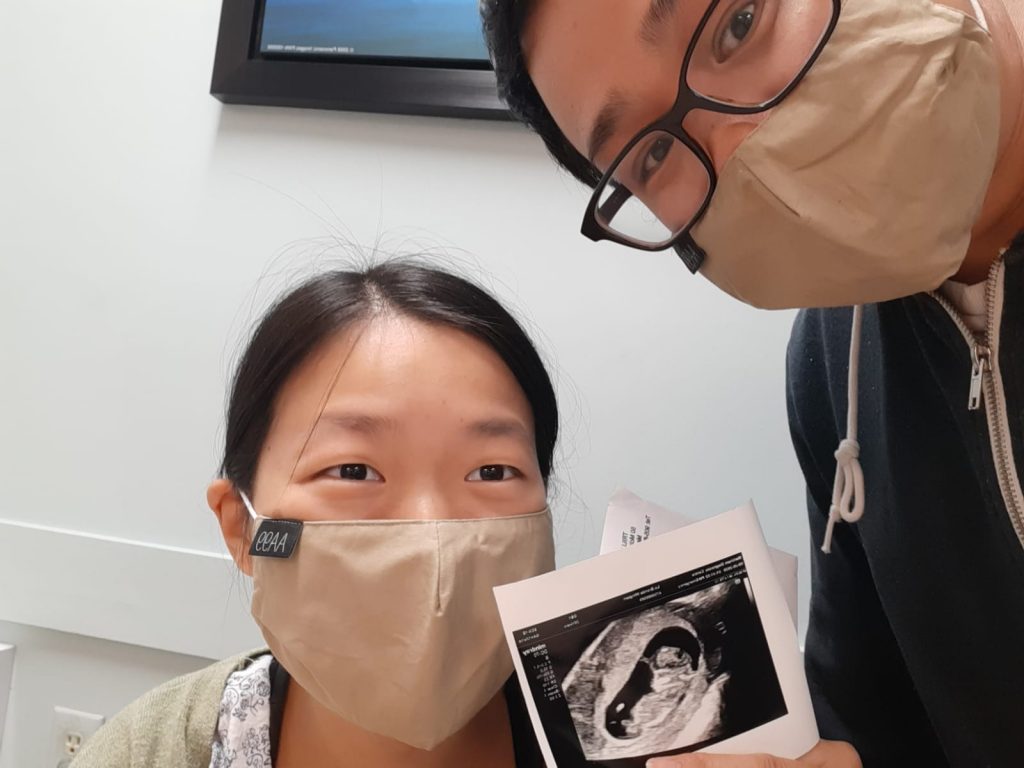 Gender reveal cake design
The biggest challenges in designing this cake were:
How to make a sturdy cake that can withstand my buttercream icing skills
How to find a gender-representing filling that goes well with the cake's texture and with lower sugar content to balance out the icing
This gender reveal cake comprises of 2 layers of gluten-free vegan carrot cake, berries and buttercream middle layer, as well as berries and walnut decoration on top.
The cake base
I adapted the cake base recipe from Beaming Baker's moist zucchini bread recipe. By substituting grated zucchini with grated carrot, it gives a good structure to the cake. Therefore, with less moisture content and higher amount of fiber and starch, the cake held up well to slicing and icing processes!
Yep, I used the wheeled ring from my microwave, a plate and an oven mit for a makeshift turntable!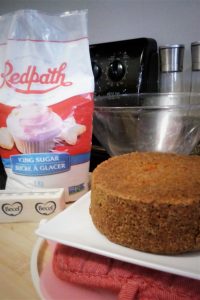 The icing
For the icing to conceal the gender surprise, I used a simple vegan buttercream frosting. If you haven't tried it before, buttercream frosting can be easily made dairy-free!
I chose Bacel vegan butter here for its affordability and availability in the supermarket near my house. However, if I am going to do it again next time, I might want to try Miyoko's Kitchen or Earth Balance.
For the milk to thin out the icing to desired consistency, I used canned coconut milk. It gives a nice creamy result that blends well with the rest of the buttercream mixture!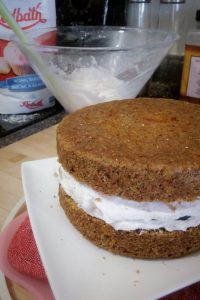 The gender surprise filling
For the gender surprise filling, I made a health-conscious choice of berries instead of sprinkles. Undeniably, a waterfall of blue (or pink) sprinkles from cutting a gender reveal cake open is visually appealing. But honestly, I cannot justify having 2 cups of icing sugar in the buttercream served with even more artificial sweetener and coloring in sprinkles!
I eventually decided to go with blueberries for a boy and raspberries for a girl. One thing to note, blueberries do not look exactly blue when they are cut across!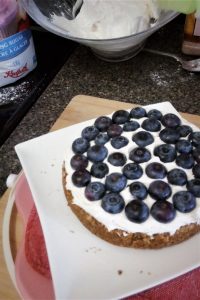 Cake decoration
Of course we are not leaving out the final touch for our gender reveal cake, the decoration! I first slathered buttercream icing all over, then topped it with chopped walnuts and a mix of raspberries and blueberries. Keeping it simple while not giving a clue of what is inside!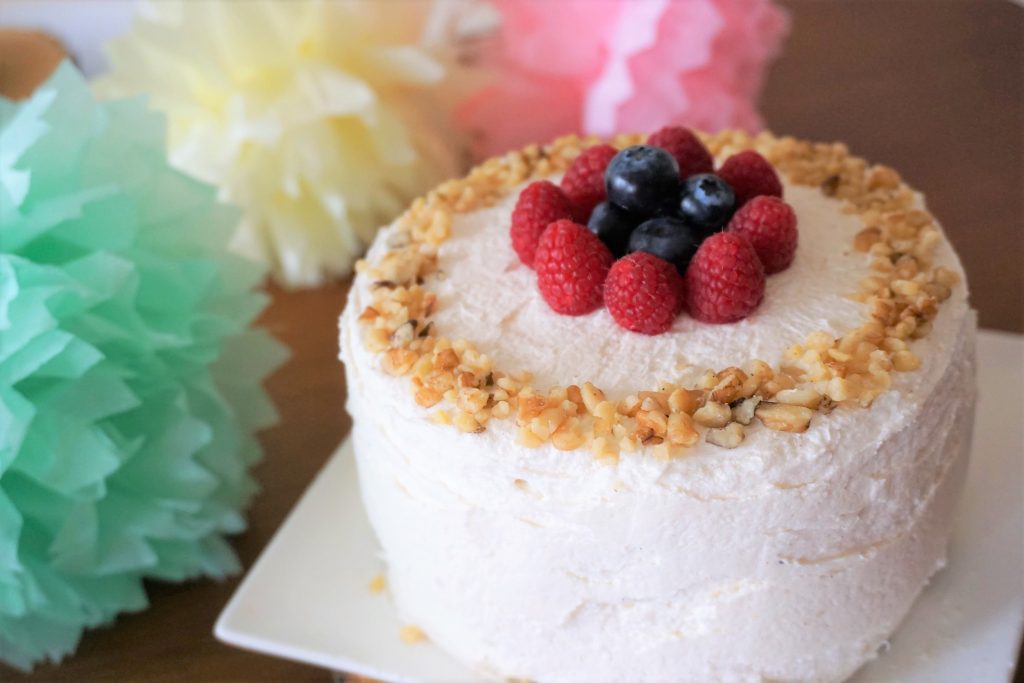 Looking for more gluten-free dairy-free dessert recipes?
Check out the Belated dessert recipe collection!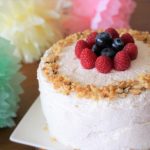 Print Recipe
Gender reveal cake, gluten-free and vegan
Gluten-free dairy-free gender reveal cake filled with fruits and veggies. Hope your friends and family will enjoy the cake and the surprise!
Ingredients
Cake base
2

cups

Gluten-free oat flour

1/2

tsp

Baking Soda

1

tsp

Baking Powder

1/2

tsp

Ground cinnamon

1/4

tsp

Ground nutmeg

1/4

tsp

Fine Himalayan pink salt

1/3

cup

Melted coconut oil

1/4

cup

Brown sugar

1/4

cup

Maple syrup

1 1/2

Flax eggs

(1 1/2 tbsp Ground flaxseed mixed with 4 1/2 tbsp water)

1

tsp

Vanilla extract

1

cup

Grated carrot
Icing and decoration
1/2

cup

Vegan butter

(1 butter stick, placed in room temperature for 15mins to soften)

1/2

tsp

Vanilla extract

2 1/2

cups

Icing sugar

1/4

tsp

Ground cinnamon

1/4

tsp

Ground nutmeg

2-3

tbsp

Coconut milk

1/2

pint

Berries

Blueberries for boy and raspberries for girl, plus a bit of the other kind for decoration on top

1-2

tbsp

Walnut pieces
Instructions
Cake base
The night before or at least 4 hours before cake decorating time, start preparing the cake base according to instructions on https://beamingbaker.com/moist-vegan-gluten-free-zucchini-bread-recipe-gf-easy-healthy/

Line or grease a 6-inch round cake pan. Preheat oven to 325°F

Pour batter into cake pan and bake for 70 mins. Insert a toothpick and make sure it comes out clean

Let cake cool in pan for 25 mins, then flip cake out of pan and continue to let cool on the cooling rack until decorating time
Icing
Prepare the icing by creaming the softened vegan butter with hand mixer in a large mixing bowl. The butter should look lighter in color and fluffy

Add vanilla, ground cinnamon and ground nutmeg, use the hand mixer to mix until combined

Roughly fold in with a spatula, then use the hand mixer to mix in icing sugar 1/2 cup at a time until desired consistency is reached. If the icing gets too stiff, add coconut milk 1 tbsp at a time to thin
Cake decorating
Place cooled cake on a cake turntable. Gently score around a line at half the height of the cake with a bread knife

Keep turning the cake and gradually cut into the cake along the scored line. This should yield a bottom cake layer and a top cake layer

Carefully lift the top layer using the bread knife and aside on a separate plate

Using a spatula, spread a 1/4 inch payer of icing over the bottom cake layer

Place berries (blueberries in my case) as tightly packed and as evenly distributed over the icing as you can. Gently press the berries into the icing to secure position

Spread a thin layer of icing over just enough to cover the berries, then place the top cake layer on top

With a spatula, take about 2 tbsp of icing at a time to put on the side of the cake and even it out by scraping the icing at an angle.

Continue to turn the cake and spread icing on the side until all the cake and fillings are concealed evenly

Spread icing on top of the cake and even it out with a spatula

Add berries and walnut pieces to decorate as desired

Bring the cake to the party and let your loved ones enjoy the surprise!
---
---