Sausage Sheet-pan Dinner + Meal-prep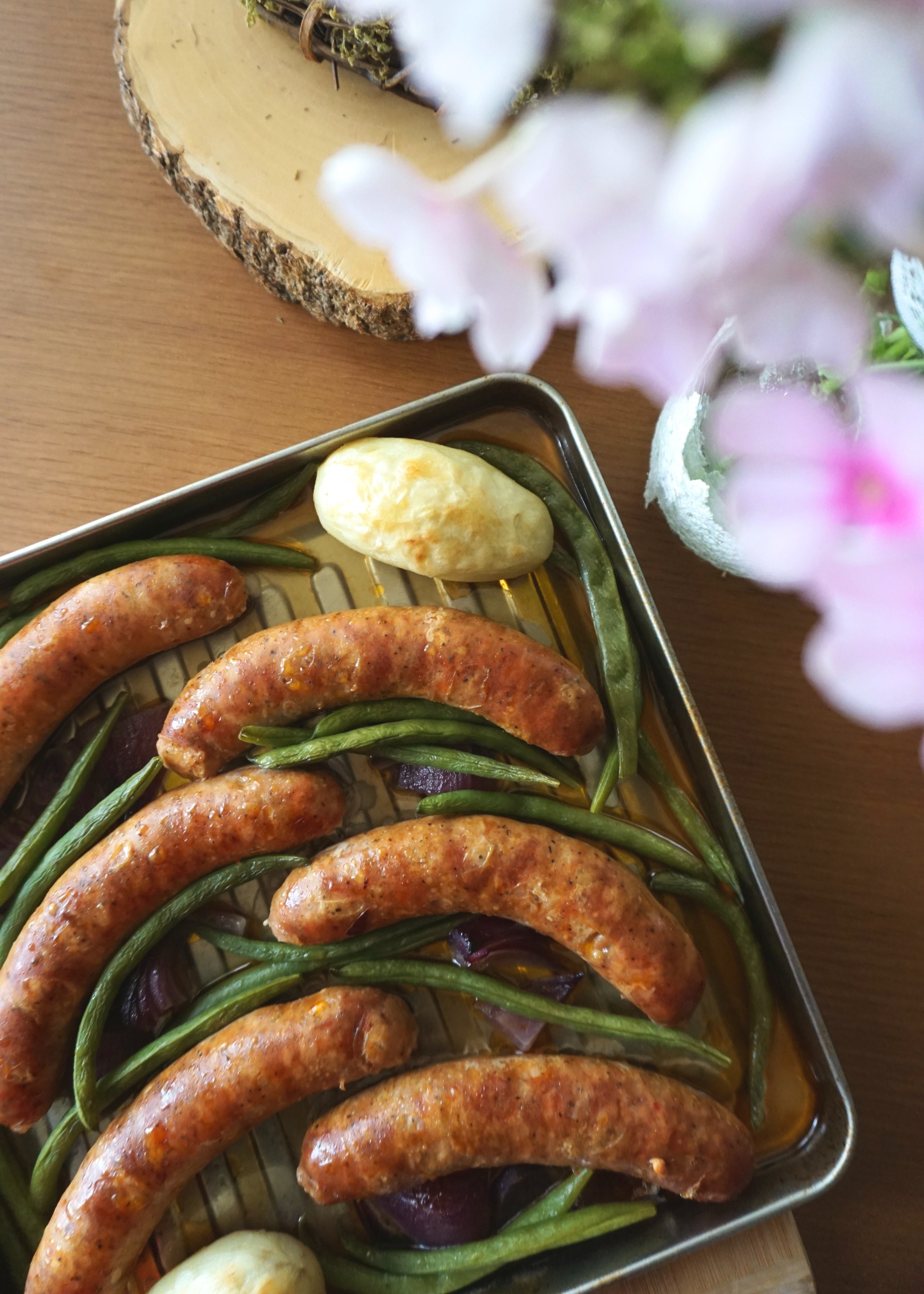 This sausage sheet-pan dinner easily makes a dinner for two with protein, veggies and carbs. Moreover, it gives you leftover sausages that are perfect to add in weekday lunch or dinner menu!!⁠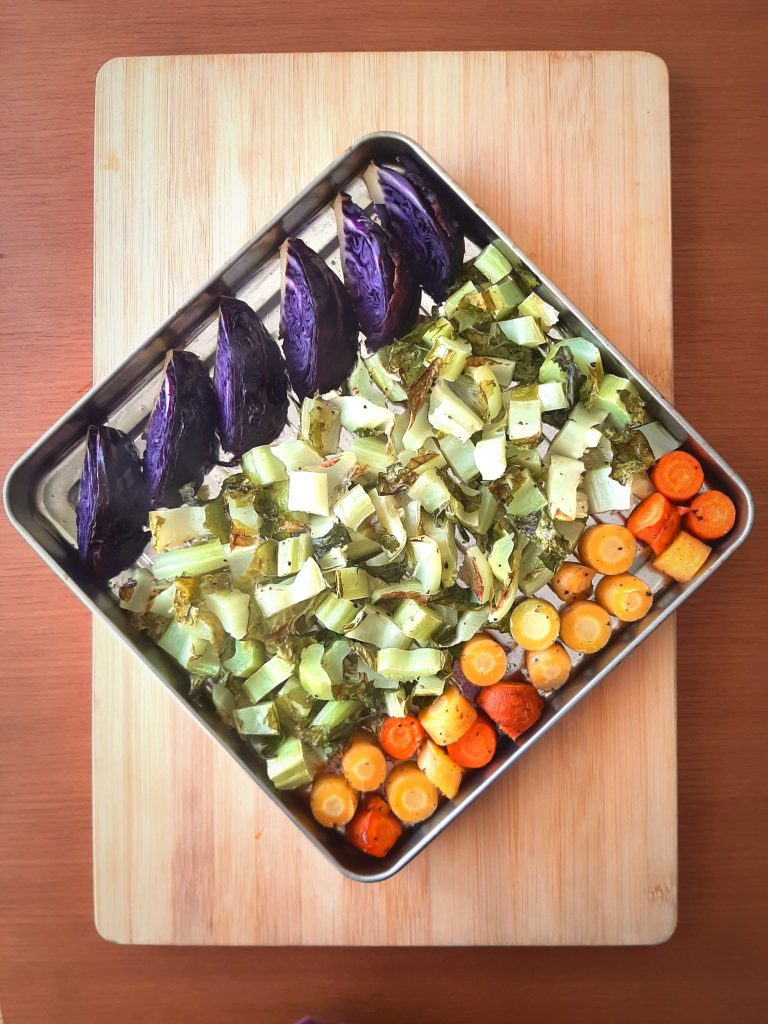 Can I say I LOVE my @cuisinart steamoven? It is definitely one of my favorite wedding gifts received!! The compact size means it heats up in no time with high energy efficiency. Furthermore, the steam feature makes meat and root vegetables moist inside and then baked to crispy outside!⁠
What is sheet-pan cooking?
Sheet-pan cooking lets you cook the entire meal from protein, to veggies and other side dishes in a single sheet pan.
Sheet pan dinners are great weeknight meal ideas. You only have 1 pan to wash (yay!), all the juices and flavors are contained and fused together so nicely in the oven! The ideas can go wild! From broiled salmon, to chicken thigh, flank steak… you name it!
It might be deceiving at times that a stunning sheet pan roast seemed to be everything going into the oven together and done at the same time. This might be true for some ingredients but I found that it is always one thing takes longer than the other. Therefore test and adjust cook time for each ingredient. Don't forget the size of food matters too!
How to use the meal-prepped sausage?
The possibilities are endless, but here are some suggestions!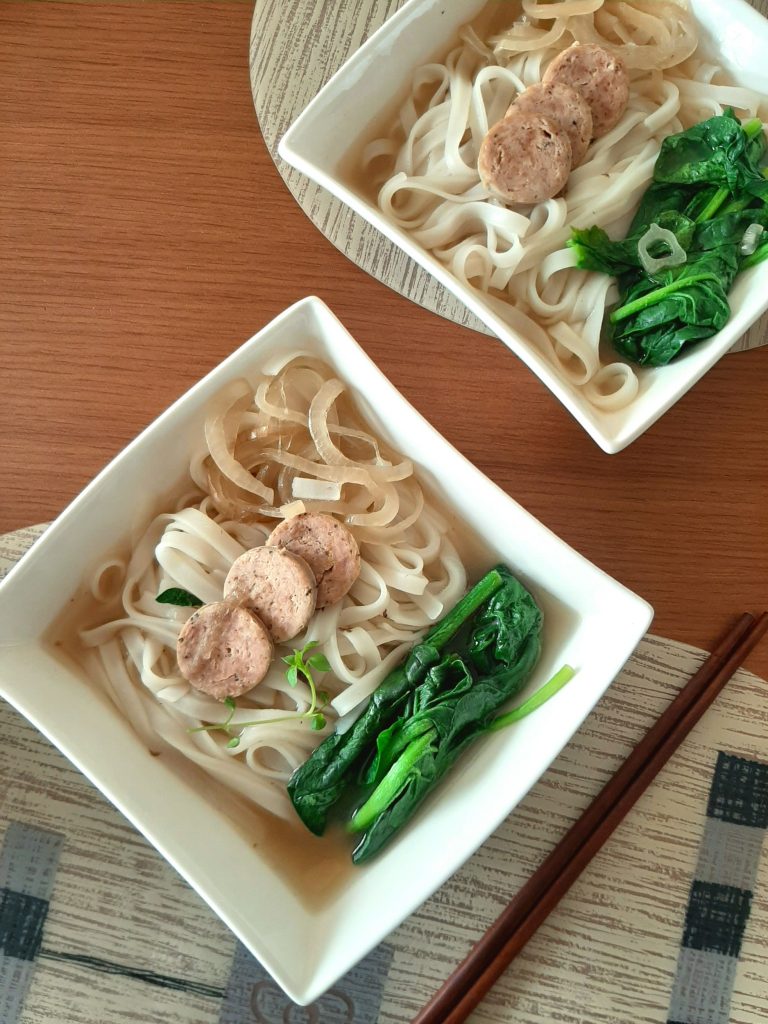 What tools do I need to make this sausage sheet-pan dinner recipe?
As steam-baking is the key cooking method here, therefore, I recommend (Affiliate link) this steam oven.
Looking for more steamoven recipes?
Check out the belated recipe collections here!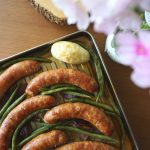 Print Recipe
Sausage Sheet-pan Dinner + Meal-prep
Ingredients
6

Gluten-free Italian sausage ⁠

2

Potatoes

or more, peeling optional if organic

1

handful

String green beans⁠

1/2

Red onion

cut in 1 inch pieces⁠

Salt and pepper

to taste, omit if the sausage releases flavorful juices like mine!⁠⁠
Instructions
Arrange sausage and potatoes on sheet pan

Start steam-baking function at 400F for 20 mins

At the last 10 mins of steam-baking, remove sheet-pan from oven. Arrange green beans and onions between sausages

Roll around a bit to coat veggies with sausage liquid released in the pan

Return to oven and bake for the remaining 8 mins

Save 3-4 cooked sausages for later, then serve the sheet pan dinner and enjoy!
---
---