Skillet Chicken Tacos – easy as 1, 2, 3!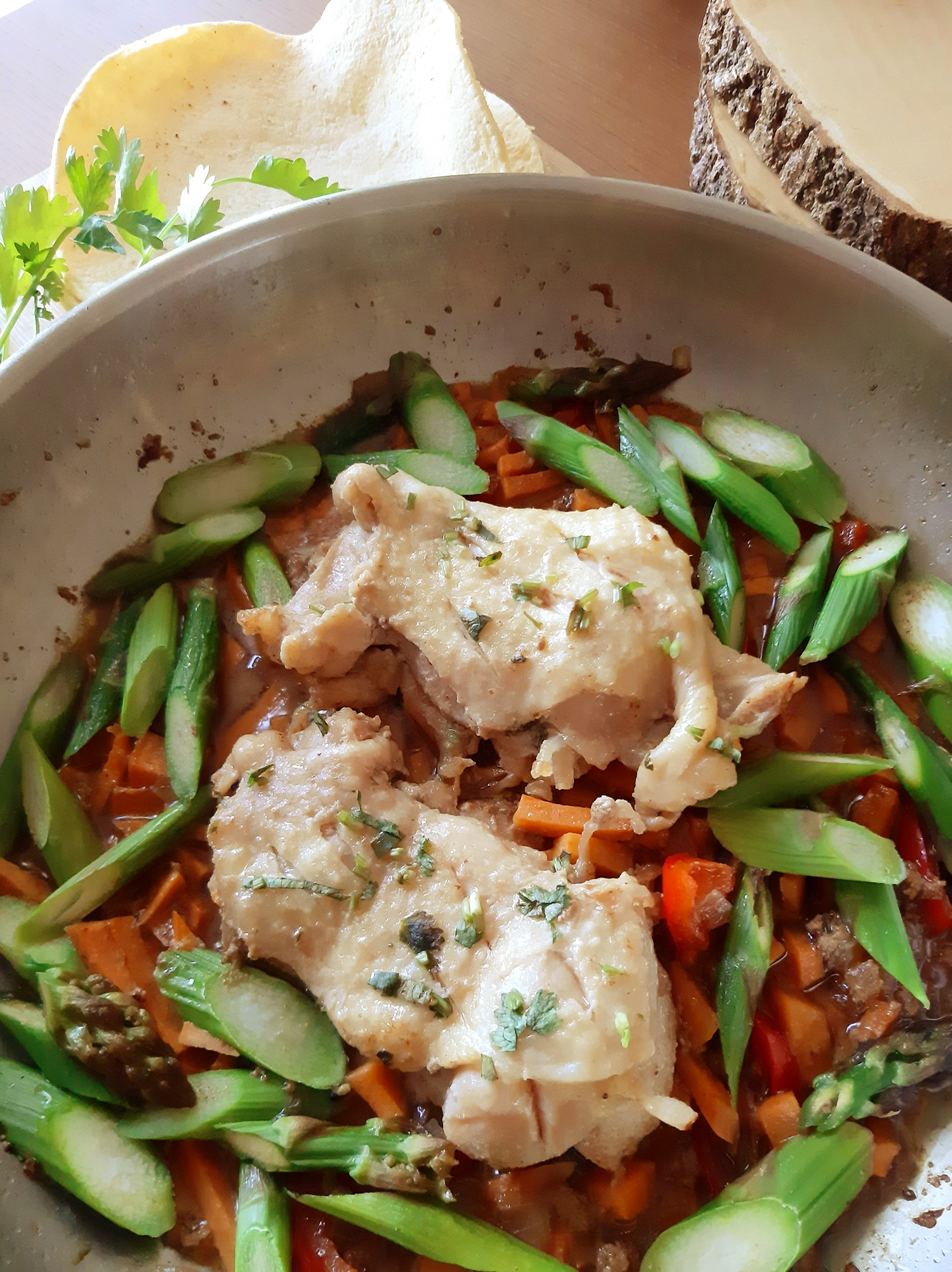 Looking for something to get through your weekday dinner prep? How about this 1, 2, 3 skillet chicken tacos idea?⁠
What are the 1, 2, 3s for skillet chicken tacos?
1: Protein: Chicken thigh⁠
2: Creamy vegetable: Sweet potato, pureed tomato⁠
3: Crunchy vegetable: Bell pepper, asparagus⁠
⁠
This 1, 2, 3 combo gives not only great flavor, but also great texture that adds interest to the dish. This combo is superb with different side dishes you can imagine!
What sides goes well with skillet chicken?
This flavor and texture combo works great with different sides. To keep it gluten-free, I like to have my skillet chicken in corn tortilla or homemade warm water dough gluten-free flour tortilla as tacos and fajitas.
Besides tacos, you can also serve this flavor packed skillet chicken with cilantro-lime rice! ⁠Rice is a perfect gluten-free choice if you tolerate grains but not wheat products.
Would like to see the keto option? I definitely recommend using flax tortillas! You can buy these ready made, but they are actually incredibly easy to make from scratch from simply ground flax seed and water!
⁠
Now search your fridge and let me know in comments below your 1, 2, 3 combo for tonight! 👇⁠
Looking for more gluten-free stove-top recipes?
Check out the Belated recipe collection!
Print Recipe
Skillet Chicken Tacos
Looking for something to get through your weekday dinner prep? This easy 1, 2, 3 skillet chicken tacos idea is packed with great flavor!
Ingredients
2

servings

Protein

I used chicken thigh

1 1/2

cup

Crunchy vegetables

I used asparagus and bell pepper, cut in 1-inch pieces

1

cup

Creamy vegetables

I used sweet potatoes, but in cubes, sub with tomato puree for keto

1

tbsp

Chopped herbs

I used cilantro

Salt and Pepper

to taste

4

Taco shell or tortillas

I used corn based ones, sub with flax tortilla for keto
Instructions
Heat skillet over medium heat with cooking oil

Place chicken thigh skin side down. Season with salt and pepper then press down to pan fry

As the chicken skin crisp up, turn chicken thighs over with a spatula. Season with salt and pepper on the other side

Add creamy vegetables to skillet along with 1/2 cup water

Cover to simmer until chicken is fully cooked

Add crunchy vegetable to skillet and stir to combine. Season further if needed

Serve with your choice of tortillas and enjoy!
---
---